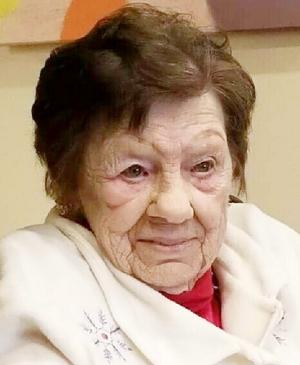 Linn County News
Published Jan. 24, 2018
Mary Jane Mitts, age 87, Pleasanton, Kan., passed away on Sunday, Jan. 21, 2018. She was born at Foster, Mo., on Sept. 30, 1930, the daughter of John and Mary Frances Galvin Vaughn.
She was married to Willard Mitts on July 14, 1963. He preceded her in death on Feb. 10, 2012.
She worked in the Healthy Start program in Bourbon, Linn, Allen and Anderson counties.
Mary Jane was a member of the Gold Star Mothers. Her membership was the result of her son John Davis being killed in action in the Vietnam War in August of 1968. She was also a member of the Pleasanton First Christian Church and the VFW Auxiliary.
She was also preceded in death by her parents; and two brothers, Donald and Joe Vaughn.
She is survived by five daughters, Terry Tucker and Jeff, Linda Streeter and Andy, Waneta Cox and Garen, Dixie Bollinger and Rod, and Doneta Mitts; a sister, Dorothy Miller; nine grandchildren, John, Jerome, Jeremy, Jerrett, Joshua, Branden, Christopher, Amy and Matt; 13 great grandchildren; and one great, great grandchild.
Funeral service will be 11 a.m. Friday, Jan. 26, 2018, at the Schneider Funeral Home and Crematory, Pleasanton Chapel. Burial will be in the Pleasanton Cemetery. Visitation will be held from 5-7 p.m. Thursday at the Pleasanton Chapel.
The family suggests contributions to Cross Roads Hospice or The Wounded Warrior Project c/o Schneider Funeral Home and Crematory, P.O. Box 525, Pleasanton, KS 66075. Online condolences for the family can be left at www.schneiderfunerals.com.
OBITUARIES

Linn County News Published March 29, 2023 Larry Ray Oliver, age 69, Pleasanton, Kan., passed away on Wednesday, March 22, 2023. Funeral service will be at 6 p.m. on Saturday, March 25, 2023, at the Schneider Funeral Home and Crematory, Pleasanton Chapel. Visitation... [More]

Linn County News Published March 22, 2023 Bud Lindsay, age 88 of Prescott, Kan., passed away peacefully at his home Wednesday, March 15, 2023. He was born the son of Esler Roy and Bessie Clara (Deckard) Lindsay at Lebanon, Mo. Bud loved racing, working on old... [More]

Linn County News Published March 22, 2023 Vance Laverne Bruner, age 63, Mound City, Kan., passed away Friday, March 17, 2023, at his home. Memorial service will be held 2 p.m. Friday, March 24, 2023, at the Schneider Funeral Home and Crematory, Mound... [More]
More Obituaries
View All Obituaries
NEWS

MIAMI & LINN COUNTY – On Wednesday morning, the Kansas Bureau of Investigation (KBI), the Miami County Sheriff's Office, the Linn County Sheriff's Office, the Osawatomie Police Department, and the Pleasanton Police Department arrested six individuals... [More]

After meetings discussing the Linn County Comprehensive Plan and where the county should be as to allowing wind turbines, the Linn County P&Z said no 5-3 to allowing any turbines in the county. P&Z Commission Chair Richard Morrell brought the subject up after several... [More]

The Linn County Planning & Zoning Commission met Tuesday evening with the first speaker on the agenda recognized from Heartland Rural Electric Cooperative (REC). Tony Washington introduced himself and said Heartland REC is interested in building a solar field in Linn County;... [More]
More News
SPORTS

The season for the Linn County high school boys' basketball teams is over and it's time for this year's All County Boys' Basketball team. This year, there is a first and second team with five players on each team from the three local high schools, Prairie... [More]

The season for the Linn County high school girls' basketball teams is over and it's time for this year's All County Girls' Basketball team. This year, there is a first and second team with five players on each team from the three local high schools,... [More]
More Sports

OBITUARIES POLICY
• May be mailed, e-mailed, faxed or hand delivered.
• Must be received by 9 a.m. on Tuesday morning in order to appear in that week's edition.
• Full obituaries submitted by individuals are required to be paid in advance.
• Obituaries submitted by funeral homes will be billed to the funeral home.
• Cost: $30 for 300 words or less. Each additional word over 300, 10¢. Photograph $5.
Call Barbara at 913-352-6235 or e-mail linncountynewsreporter@gmail.com