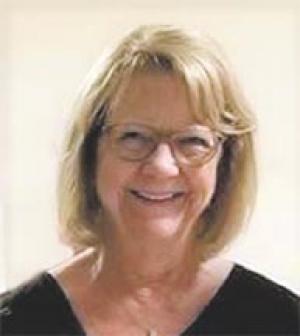 Linn County News
Published Sept. 1, 2021
Mary Kretchmar went home to Heaven on Aug. 26, 2021.
Mary, or Mary Jane if you're from Linn County or knew her from her younger days, was born in a little farmhouse in Mound City, Kan., on Aug. 11, 1946. She was raised there alongside her big brother, David (Peggy) Wakefield, by her parents, (Mildred) Maxine and Lloyd Wakefield.
After high school, Mary went to college at Pittsburg State University. It was there where she met and fell in love with her husband, Butch (Richard) Kretchmar, in the now infamous grape slush incident. They tied the knot on Sept. 19, 1965, and were married for 55 years before Butch passed away just last year.
Together, they raised their three children, Jeff (Valerie) Kretchmar, Susie (David) Killgore, and Katie (Joe) McDonald. Any summer night you would find her at a ballpark watching the kids play. The girls were both in dance, so she tirelessly sewed costumes and chauffeured them to practices, competitions and workshops all over the place. She was a Girl Scout leader, room mother, PTA president and anything else she could do to be involved. Through it all, she not only bonded with her own kids but was like a second mom to countless others.
When the kids were grown, Mary and Butch found other interests like traveling, square dancing, attending Nascar races and eventually following their grandkids in their activities. They went to hockey, baseball, basketball and soccer games. They went to car races, music shows and cheerleading competitions. And they loved every minute of it. Except when it was cold. They didn't love that!
Mary also belonged to a sorority and dearly loved her Xi Chi sisters. Whether just the girls for a shopping trip to Kansas City or bringing the husbands along to one of their elaborate theme parties, a good time was always in order with this group!
Mary's grandchildren, Kendall (Katie) Pulliam, Kaylee Killgore, Kyle (Sara) Killgore, Keylan (Colleen) Killgore, Cody (Taylor Webber) Kretchmar, Jackson McDonald and Christian McDonald, loved her fiercely and will miss her terribly. She also leaves behind three adorable great-granddaughters, Kendall's Lila Setzkorn and Savvy Pulliam, and Kaylee's Lilee Killgore.
While they are so very sad to say goodbye, they rejoice in knowing that she is reunited with her love. The final words to the final chapter of one of the greatest love stories ever have now been written. But that story will be cherished forever.
The funeral service was scheduled at Downing & Lahey West Mortuary at 11 a.m. Tuesday, Aug. 31, 2021, 10515 W. Maple, Wichita, Kan. 67209. Graveside service was to be immediately following at Resurrection Cemetery.
Memorials have been established with: League 42 Foundation, P.O. Box 20051, Wichita, KS 67208; and Kansas RBI (Reviving Baseball in Inner Cities), P.O. Box 12443, Kansas City, KS 66112.
Share tributes online at: www.dlwichita.com.
OBITUARIES

Linn County News Published Aug. 3, 2022 Patsy Lucille Smith, age 59, Pleasanton, Kan., passed away peacefully in her home, surrounded by family Sunday, July 31, 2022. She was born on June 15, 1963, in Parsons, Kan., the daughter of George William (Bill) and Mary Jo (Jones)... [More]

Linn County News Published August 3, 2022 Fred Ahlemann, age 84, Overland Park, Kan., passed away Friday, July 29, 2022. Funeral service will be held 11 a.m. Saturday, Aug. 13, 2022, at St. Mark's Lutheran Church, Olathe, Kan. Graveside service will be 3 p.m. Saturday,... [More]

Linn County News Published Aug. 3, 2022 Janet L. Toms, age 69, Pleasanton, Kan., passed away Wednesday, July 27, 2022. She was born on May 25, 1953, in Paola, Kan., to Kenneth and Fontella Butler Stainbrook. She graduated from Prairie View High School and... [More]
More Obituaries
View All Obituaries
NEWS

Following the governor's recent approval of legislation created to show when taxing entities are increasing mill levies, additional costs to taxpayers are coming to the forefront, despite some holding taxes to the same level using revenue neutral rates. Kansaspolicy.org... [More]

Following opening statements at Monday's Pleasanton City Council meeting, public speaker Mike Higgins took the podium and told the council that he was talking to former Olive's Hope building owner Brandon McGinnis concerning the sale of the building to a family that... [More]

Two of the county departments geared toward public safety are now under new direction. Missy Lancaster took over the Linn County Health Department as well as the position of Public Health Officer in November of last year and has made a few changes to the department since... [More]
More News
SPORTS

Linn County has a new competitive softball team, Total Effect Softball, which will be based out of Mound City. Jayhawk-Linn head softball coach Kris Holt started the team and will be the head coach of Total Effect. Holt had multiple reasons on why he wanted to start a competitive... [More]

Fishing has slowed down since the last reports on June 27, but fish are still being caught and can be even better in the coming weeks with some cooler weather and more rain. All the reports were last updated on July 18. La Cygne Lake Catfish, largemouth and crappie are the... [More]
More Sports

OBITUARIES POLICY
• May be mailed, e-mailed, faxed or hand delivered.
• Must be received by 9 a.m. on Tuesday morning in order to appear in that week's edition.
• Full obituaries submitted by individuals are required to be paid in advance.
• Obituaries submitted by funeral homes will be billed to the funeral home.
• Cost: $30 for 300 words or less. Each additional word over 300, 10¢. Photograph $5.
Call Barbara at 913-352-6235 or e-mail linncountynewsreporter@gmail.com