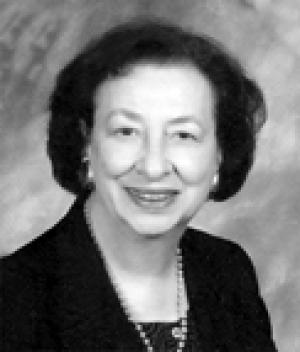 Mary Lou Davis Margrave died Nov. 24, 2014, just a few days after her 87th birthday. Mary Lou was born Nov. 14, 1927, in the rolling farm country of southeast Kansas. She lived on the family farm during her childhood years, attended college at the University of Kansas, and eventually moved to Houston in 1963 when her husband, John, joined the faculty at Rice University. Mary Lou spent her early adulthood first as a young working woman and teacher and then raising her two children with her wonderful husband, John Margrave. Love of family, a commitment to education, and involvement in church and her community would be defining themes throughout her life.
Mary Lou spent many of her adult years pursuing the advancement of education at all levels. She was a natural teacher and brought a joy of learning to virtually all of her activities. Over the years, she was asked to serve in many capacities involving Rice University, and Mary Lou often worked hand in hand with her husband John on various projects involving the Rice community. In recent years, one of her "labors of love" was the Rice graduate student loan closet (a program allowing students to borrow furniture and other household items) where for almost 20 years she played a leading role, positively impacting the lives of countless students. Recognition of her outstanding contributions over the years to the Rice community included a Rice University Meritorious Service Award (for helping establish an interest-free, emergency loan fund for Rice graduate students), a Friends of Rice Graduate Students Award and a Friend of Fondren Library Award.
Throughout her life, Mary Lou made a multitude of contributions across diverse settings, exemplifying her commitment to the larger community. Organizations where she spent substantial time included St. Paul's United Methodist Church, including time with her beloved Sunday School class; Achievement Rewards for College Scientists (ARCS), a national organization dedicated to student scientific research, where she was a past President of the Houston Chapter; and Delphian, where she had also served as President. Mary Lou was a former President of the Rice University Faculty Women's Club and a former Vice President of The Friends of Fondren Library. She loved her Book Club and just the past few days was preparing to lead a discussion on the War of the Roses.
Mary Lou's early years imparted to her a love of the land that continued throughout her life. Some of her happiest memories were spending time at her family farm, where she continued to remain actively involved in farm operations – she loved a clean fence line. In 2006, Mary Lou received the Kansas Bankers Association Award for her Soil Conservation efforts. Despite leaving to attend college at age 16 and then living in other states for the next 67 years, she maintained an active and continuing connection with the community where she grew up, attending her annual high school reunion virtually every year since 1944.
Mary Lou's family will always remember her wonderful sense of fun and the love she showered on her children and grandchildren. She had distinct and close relationships with each of her five grandchildren, and her influence helped give all of them a shared love of reading, playing games, and being informed about the world. She was a great storyteller, and some of her family's favorite stories included hearing about the pony, Patsy, she rode to school and stories about trips and discussions with her grandfather, who had been the Governor of Kansas.
Aspects of Mary Lou's character that stood out to family and friends included her energetic personality, her creativity and her truly giving spirit. She loved to read and stay informed, and worked the crossword puzzle in the paper on most days. Possibly one of her most remarkable traits was her ability to make a distinct connection with virtually everyone she met. She loved to travel and took joy in having actually visited all 50 states.
Mary Lou received a Bachelor's degree in Business from the University of Kansas, where she met John, whom she married on June 11, 1950. She received a Master's degree in Business Education from the University of Wisconsin, and taught business in a Wisconsin high school for five years. She was a member of the Order of the Eastern Star.
Mary Lou was predeceased by her dearly loved husband, Dr. John L. Margrave. She is survived by her two children, David Margrave and his wife Allison, and Karen Margrave Bornhofen and her husband R.J.; and by her five grandchildren, Meredith Margrave MacKay and her husband Doug, Andrew Margrave, and Jennifer, Brittany and Hannah Bornhofen.
A memorial service will be held on Sunday, Dec. 28 at 1:30 p.m., in the sanctuary of Blue Mound United Methodist Church, 509 E. Walnut, Blue Mound, Kan. In lieu of flowers, the family requests that consideration be given to making donations to either Blue Mound United Methodist Church, 509 E. Walnut, Blue Mound, KS 66010; or to the University of Kansas, made payable to KU Endowment and mailed to Gift Processing Department, KU Endowment, PO Box 928, Lawrence, KS 66044-0928.
OBITUARIES

Linn County News Published Aug. 10, 2022 Merle A. Beckman, age 86, Mound City, Kan., passed away Wednesday, Aug. 3, 2022. He was born in rural La Cygne, Kan., on Oct. 5, 1935, the son of Charles and Neeva (Neal) Beckman. He graduated from La Cygne Rural High School... [More]

Linn County News Published Aug. 10, 2022 Mary Jo Spencer, age 83, of Mound City, Kan., passed away on Aug. 6, 2022, at Louisburg Healthcare, Louisburg, Kan. She was born Nov. 13, 1938, in Terrell, Texas, to James Downing and Claudie Flower. Mary Jo moved to Lubbock, Texas,... [More]

Linn County News Published Aug. 10, 2022 Larry Sumners, age 68, of Centerville, Kan., passed away on Monday, Aug. 1, 2022, at the Overland Park Regional Medical Center in Overland Park, Kan. Laurence A. Sumners was born on Aug. 16, 1953, at McPherson,... [More]
More Obituaries
View All Obituaries
NEWS

What was a dream a year ago has come to fruition with a ribbon cutting and open house scheduled for Friday, Aug. 12 at 10 a.m. The Southeastern Technical Academy for Rural Students (STARS) is now a reality located in the former Cox Motor Company building at Laurel and 17th Streets... [More]

With the ribbon cutting and open house of the new STARS Technical Academy in Pleasanton slated for Friday, Aug. 12, the staff and instructors at the school opened up recently about their roles and what the program means to them. Phil Mitchell, who will be teaching Construction... [More]

After sending the Linn County Commissioners an email explaining county real estate compliance with state values, the commissioners visited with Linn County Appraiser Kathy Bridges Monday. After initial conversation on the 2021 final ratio study concerning commercial and residential... [More]
More News
SPORTS

The Linn County Fair and Rodeo started this past week with the traditional demolition derby. There were two nights of demo derby action as team derby, modified and figure eight races took place on Aug. 5 while the compact, semi-modified and bone stock took place on the evening... [More]

Linn County has a new competitive softball team, Total Effect Softball, which will be based out of Mound City. Jayhawk-Linn head softball coach Kris Holt started the team and will be the head coach of Total Effect. Holt had multiple reasons on why he wanted to start a competitive... [More]
More Sports

OBITUARIES POLICY
• May be mailed, e-mailed, faxed or hand delivered.
• Must be received by 9 a.m. on Tuesday morning in order to appear in that week's edition.
• Full obituaries submitted by individuals are required to be paid in advance.
• Obituaries submitted by funeral homes will be billed to the funeral home.
• Cost: $30 for 300 words or less. Each additional word over 300, 10¢. Photograph $5.
Call Barbara at 913-352-6235 or e-mail linncountynewsreporter@gmail.com