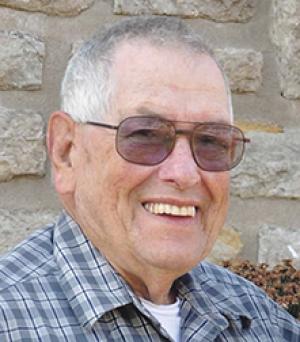 Linn County News
Published May 25, 2022
Merwin B. Rice, 81, of Osawatomie, Kan., passed away Friday, May 20, 2022, at Olathe Medical Center.
Family will meet with friends from 5 to 7 p.m., Thursday, May 26, 2022, at Living Proof Church, 32401 Harmony Road, Paola, Kan., 66071. Funeral services will be held at 11:00 a.m., Friday, May 27, 2022 at the church under the direction of Dengel & Son Mortuary, 305 N. Pearl St., Paola, Kan., 66071.
Merwin was born Friday, Sept. 13, 1940, in Gardner, Kan., the son of Arthur James and Mary (Davis) Rice. He attended school in Greeley, Kansas until moving to Macks Creek, Mo., his junior year of high school. He graduated from Macks Creek High School.
After high school, Merwin entered the United States Marine Corps. He entered the Marines on February 20, 1959 and was honorably discharged April 22, 1959 due to medical conditions that disqualified him from continuing his service.
Merwin was united in marriage to Ardyth Horttor on July 30, 1966, at Blue Mound, Kan. They made their home in Osawatomie and became the parents of three children; James, Aaron, and Angela.
He worked at Delco Remy in the maintenance department for 31 years.
Merwin had many hobbies. Most of all, he enjoyed the time spent with his family. Following his children's and grandchildren's sports activities was a highlight of his life. He enjoyed sports, baseball, coaching girls' softball, and time spent in the outdoors. He had played slow pitch softball in his younger years. He was a referee for high school football for 45-plus years and also umpired baseball and softball during the summers.
He was a member of the Osage Valley Masonic Lodge #24 AF & AM in Osawatomie where he served as Master three times. His church affiliation was with Living Proof Church in Paola where he actively participated in numerous church activities.
He was preceded in death by his parents; one granddaughter Madison Rice; his siblings Ernie, Dick, Roberta, Ethelyn, Gene, James, Art, and Clara.
Survivors include his wife Ardyth of the home; two sons James Y. Rice (Andi) of Nampa, Idaho, and Aaron Rice (Angel) of Linn Valley, Kan.; his daughter Angela Weiss (Chuck) of Lebo, Kan.; sister Emma Rice of Raytown, Mo.; six grandchildren Austin (Ashleigh) Weiss, Misty Weiss, Dylan (Addie) Rice, Colton Rice, Nichole Rice, and Conrad Rice; one great-grandson Theodore Weiss; many other relatives and friends.
The family suggests memorial contributions to Living Proof Church.
OBITUARIES

Linn County News Published March 15, 2023 Janice Ann Leasure Woodrum, Chehalis, Wash., formerly of La Cygne, Kan., passed March 5, 2023. Memorial service arrangements will be announced at a later date by the Schneider Funeral Home, La Cygne Chapel. ... [More]

Linn County News Published March 15, 2023 Lewis Michael Wilson, age 70, Pleasanton, Kan., formerly of La Cygne, Kan., passed Sunday March 5, 2022. Memorial service will be 11 a.m. Thursday, March 16, 2023, at the Schneider Funeral Home and Crematory, La Cygne Chapel.... [More]

Linn County News Published March 15, 2023 Janet Dean Robinson Staton, age 84, Cleveland, Mo., passed away Wednesday, March 8, 2023. Funeral service will be held 1 p.m. Monday, March 13, 2023, at the Schneider Funeral Home and Crematory, Pleasanton... [More]
More Obituaries
View All Obituaries
NEWS

During the tail-end discussion amongst commissioners at Monday's meeting regarding wage increases, Commissioner Jason Hightower noted a plan presented by County Clerk David Lamb for a $1 per hour across the board raise rather than a percentage based raise, which some county... [More]

Commissioner Danny McCullough opened a discussion on the Pleasanton Senior Meals site during the March 13 meeting with a slideshow of photos he had taken of various issues in the current site. The photos showed a variety of issues that McCullough said he took from the viewpoint... [More]

Parker city leaders may consider a future action to establish a legal truck route within the city. Tim Griffin, past councilman, broached the topic at last Thursday's monthly council meeting in asking for a follow-up to his truck-route question from the January council... [More]
More News
SPORTS

The Jayhawk Wrestling Club went to the kid's State wrestling tournament this past weekend, March 10-12, in Topeka. The team did very well taking seven wrestlers and five placing in the competition. Maggie Earnest, 8U Girls 70, placed second and scored 20 team points.... [More]

The Linn County Twisters wrestling team took 13 wrestlers to the kid's State wrestling tournament in Topeka March 10-12. The Twisters had five of their 13 wrestlers place in the tournament. Taryn Mills, HS Girls 130, was eliminated after two matches in the tournament.... [More]
More Sports

OBITUARIES POLICY
• May be mailed, e-mailed, faxed or hand delivered.
• Must be received by 9 a.m. on Tuesday morning in order to appear in that week's edition.
• Full obituaries submitted by individuals are required to be paid in advance.
• Obituaries submitted by funeral homes will be billed to the funeral home.
• Cost: $30 for 300 words or less. Each additional word over 300, 10¢. Photograph $5.
Call Barbara at 913-352-6235 or e-mail linncountynewsreporter@gmail.com