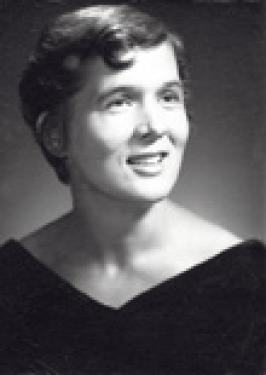 Former Pleasanton resident Millicent Gladys (Rea) La Berge, 91, died Friday, Sept. 16, 2016, at the home of her daughter, Laura Rea, in Highlands Ranch, Colo., with Laura, daughter Lorita Groover and her grandson, Spencer Wilson, by her side.
She was born Dec. 30, 1924, in Mattydale, N.Y., in the home of her parents Louis J. La Berge and Gladys S. Skipper. Her mother was a native of Castle Acre, England, and her father was a Frenchman from Quebec, Canada. Millicent was proud of her immigrant parents and their accomplishments.
She was a United States Marine, a mother of 11 children, including Millicent Lindauer, Henry Rea, Jonathan Rea, Melissa Rea, Marc Rea, Lyman Rea, William Rea, Kelcey (Rea) Kenney, Lorita (Rea) Groover (Dewey Groover), Laura Rea (Robert Wilson) and Nathaniel Rea. She had three sets of twins: Henry and Jonathan, Melissa and Marc, and Kelcey and William. As a mother, she had six children under the age of 5 years.
She was married for 22 years to Reo V. Rea who often times worked in the eastern United States pursuing a career in the Department of Defense. She raised her children in the Pleasanton area singlehandedly during these times and later after their divorce in 1975. In 2004 she moved to Nemo, Mo.
As a toddler, she showed compassion to neglected animals, and this continued her entire life. She rescued and also fed abandoned animals. She generously gave of herself and shared her personal resources with those in need.
Millicent lived a courageous life of independence. After graduating from Central High School, Mattydale, she worked for General Electric Co., Syracuse, N.Y., and saved money to attend Crouse Irving Hospital School of Nursing, Syracuse.
After her nursing education, Millicent was moved by patriotism and her friends dying in World War II and enlisted in the United States Marines, doing basic training at Camp Lejeune, N.C. After the war, she received training as an airline reservationist in California.
In order to spend the most time with her family, Millicent often worked the night shift. She worked as a nurse in hospitals, nursing homes and in the home health care settings. Her cherished patients called her "Sunshine."
As a devoted mother, Millicent also worked in other fields such as the Motorola Co.; as a blue printer for the U.S. Government Printing Office, Washington, D.C.; in childcare; and in the retail and restaurant industry. She also was caregiver for her mother during her lengthy illness.
She was an inspiration to her children and several have chosen careers in public service.
While pursuing a bachelor's degree in her late fifties and early sixties, she and several of her children were studying at Pittsburg State University, Pittsburg, Kan., at the same time. In 1985 she graduated with a Bachelor of Science in Administration of Criminal Justice from Wichita State University.
Upon graduation, she experienced age discrimination as she pursued work in the Kansas State Criminal Justice System. Though she scored high on the entrance exams, she was denied interviews and was never hired, which was in violation of Kansas state law. This was deeply disappointing to her as she was interested in rehabilitation of prisoners.
Even in the later years of her life, Millicent was a humanitarian. In 1994, at the age of 71, she traveled to the country of India as a volunteer worker with Habitat for Humanity. She mixed by hand the mortar for the bricks used in the construction of homes.
Millicent never got over the loss of her children, Kelcey, Nathaniel and Jonathan. Her daughter, Kelcey (Rea) Kenney, was hit and killed, along with her grandson, Justin Kenney, by a drunk driver in El Paso, Texas, in June of 1987.
Her son, Nathaniel Rea, was killed in a blizzard near Eureka, Kan., in January of 1997. He had been visiting his mother for Christmas and was returning home.
Jonathan died of lung cancer in January of 2006 in Palisade, Colo.
Her eight surviving children, numerous grand and great-grandchildren live across the United States. Her only surviving sibling, sister Mina Case, lives in Mattydale.
She was preceded in death by her parents and three sisters, Suzanne Symer, Regina La Berge and Marie La Berge.
As a champion for animal rights, Millicent chose to encourage contributions to organizations promoting their welfare.
Graveside services will be held at 2 p.m. Friday, Sept. 23, in the Pleasanton Cemetery, Pleasanton. Military honors will be provided. Services are under the direction of the Cheney Witt Chapel, Fort Scott, Kan. Words of remembrance may be submitted to the online guestbook at cheneywitt.com.
OBITUARIES

Published in the Linn County News Karen Joyce Hughes Kidwell, 73, of Linn Valley, Kan. passed away September 10th at her home. She was born Sept. 9, 1948 in Kansas City, Kan. She was a graduate of Shawnee Mission North High School, Bethany Hospital... [More]

Linn County News Published Sept. 15, 2021 Leota Vondell Burris, age 85, Mound City, Kan., passed away on Thursday, Sept. 9, 2021. She was born in Marceline, Mo., on Aug. 30, 1936, the daughter of Thomas B. and Estel A. Watson Adams. She... [More]

Linn County News Published Sept. 15, 2021 Janet (Brown) Maschino, 64, of rural Pleasanton and Parsons, passed away peacefully at 3:13 a.m. Thursday, Sept. 9, 2021, at her daughter's home in Erie. Janet's story starts on March... [More]
More Obituaries
View All Obituaries
NEWS

By JACKIE TAYLOR Linn County News jackielcn@linncountynews.net Consumers beware as President Biden's $3.5 trillion spending package advances through Congress as much of the cost will come from new oversight on personal checking accounts. The oversight... [More]

Former Cox Motor Co. building, potential site for school By JACKIE TAYLOR Linn County News jackielcn@linncountynews.net Entering executive session for data relating to partnerships, the Pleasanton City Council spent 50 minutes discussing a partnership... [More]

A hearing at Linn County District Court for 2019-CR-000210, State of Kansas versus Lonnie Shane Martin, was held Friday afternoon for a no go preliminary where Assistant County Attorney Justin Meeks informed District Judge Terri Johnson that the state was withdrawing... [More]
More News
SPORTS

It's been a bumpy start to the 2021 season for Jayhawk-Linn's football team. A roster with 19 underclassmen (freshmen and sophomores) among its 32 members missed both their Aug. 27 home jamboree with Pleasanton and Erie because of COVID-19 and its scheduled... [More]

BY ADAM HOLT LINN COUNTY NEWS holtadam82@yahoo.com The Prairie View cross country teams traveled to Fort Scott on Sept. 9 to compete in the Fort Scott Invitational. The Buffalos again performed well as the varsity girls won as a team. Head Coach Marcie Caldwell... [More]
More Sports
OBITUARIES POLICY
• May be mailed, e-mailed, faxed or hand delivered.
• Must be received by 9 a.m. on Tuesday morning in order to appear in that week's edition.
• Full obituaries submitted by individuals are required to be paid in advance.
• Obituaries submitted by funeral homes will be billed to the funeral home.
• Cost: $30 for 300 words or less. Each additional word over 300, 10¢. Photograph $5.
Call Barbara at 913-352-6235 or e-mail reporter@linncountynews.net