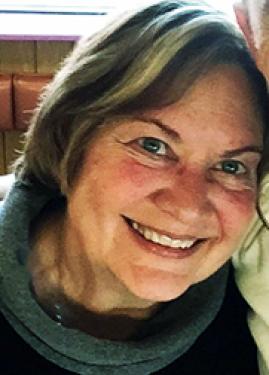 Linn County News
Published May 13, 2020
Nancy Doreen Brindle, age 66, of Kansas City, Kan., passed away on Tuesday, April 21, 2020. Nancy was born February 26, 1954, in Tribune, Kan., the daughter of Gerald D. and B. Doreen (Helm) Mangold.
Nancy graduated with the Greeley County High School Class of 1972. She earned her BA in Education from Fort Hays State University. She earned a Masters of Education Technology from Mid-America Nazarene University in 2005.
Nancy taught school in Plainview, Colo., and Tribune, Pleasanton and Paola schools in Kansas.
On December 23, 1996, Nancy married Chris K. Brindle.
Nancy was the VFW State Teacher of the Year and a finalist for the Kansas Teacher of the Year. She taught piano lessons for many years in Tribune as well as managing the swimming pool.
Nancy was the first woman to coach American football in Australia at the 2002 Down-Under-Bowl.
She was most recently on the Grand Opening Staff of the Johnson County Arts and Heritage Center.
Nancy was a member of the Lutheran Church and the VFW Ladies Auxiliary.
Nancy loved every trip to the beach especially Puerto Vallarta, Mexico; Daytona Beach; Surfer's Paradise in Australia and Hanauma Bay in Hawaii.
Nancy is survived by her husband Chris K. Brindle of Kansas City, Kan.; three children, Heidi Turner of Kansas City, Kan., Heath Hild and Beth Haney of Shawnee, Kan., Harmony and Jeff Reicks of Silverdale, Wash.; her mother Doreen Mangold of Tribune, Kan.; three siblings: Jerry and Kathy Mangold of Tribune, Kan., Larry Mangold of Bethune, Colo., Judi Mangold of Tribune, Kan.; her father-in-law, C.R. Brindle of Erick, Okla.; 11 grandchildren and 3 great-grandchildren.
Her father; sister, Beverly Walter; and mother-in-law, June Brindle, preceded her in death.
You can donate to the CJD Foundation in Nancy's honor at https://secure.qgiv.com/event/cjdfoundation/account/977283/
Fond memories and expressions of sympathy may be shared at www.chapelhill-butler.com for the Brindle family.
The family will hold "Celebration of Life" events for Nancy in the Kansas City area and in Tribune some time after large gathering restrictions are lifted. We hope you will plan to join us.
OBITUARIES

Linn County News Published September 20, 2023 Daniel Glen Needham took the long way home on Sept. 6, 2023, after fighting a long battle against cancer. We are sure he had to stop along the way and check out all the new fishing holes and visit with everyone he met... [More]

Linn County News Published September 20, 2023 Phyllis Irene Best, age 75, Grain Valley, Mo., passed away Thursday, Sept. 14, 2023. A graveside funeral service will be held 11 a.m. Wednesday, Sept. 20, 2023, at the Curry Cemetery. Visitation will be... [More]

Linn County News Published September 20, 2023 Jean Frances Patterson (nee Ward) 86, of St. Louis, Mo., passed away Monday Sept. 11, 2023 in Mercy Hospital. She was a resident of St. Louis for 60 years but remained loyal to her native Kansas where she was born... [More]
More Obituaries
View All Obituaries
NEWS

A full room greeted seven of nine members of the Linn County Planning and Zoning Commission last Tuesday at their normally scheduled meeting. The crowd attended in response to apparent contracts being circulated through locations in the county asking landowners to lease property... [More]

Field questions from local residents on regulations Following an executive session for legal matters, County Counselor Gary Thompson explained to the commissioners and those attending the meeting that he had reached out to three different attorneys who have extensive... [More]

Parker city leaders have given its police force the go-ahead to purchase two body camera/taser systems. The 3-0 vote, with Kandice Higgins and Jerry Summers not present, came during last Thursday's monthly council meeting but only after city leaders agreed that this year's... [More]
More News
SPORTS

The Jayhawk Linn football team is now 3-0 after a 56-0 thrashing of Uniontown on the evening of Sept. 15. It was all Jayhawk in their home opener as the Hawks dominated in all three phases of the game. The first offensive play from scrimmage resulted in points as Jayhawk quarterback... [More]

The Pleasanton volleyball team was certainly busy this past week as the team hosted Rich Hill on Sept. 11, hosted a Three Rivers League quad on Sept. 12, and traveled to Humboldt for a tournament on Sept. 16. The Lady Jays played a best out of five matchup against Rich Hill... [More]
More Sports
OBITUARIES POLICY
• May be mailed, e-mailed, faxed or hand delivered.
• Must be received by 9 a.m. on Tuesday morning in order to appear in that week's edition.
• Obituaries submitted by funeral homes will be billed to the funeral home.
• Full obituaries submitted by individuals are required to be paid in advance.
• Cost: $40 for 300 words or less. Each additional word over 300, 10¢. Photograph $5.
Call Barbara at 913-352-6235 or e-mail linncountynewsreporter@gmail.com