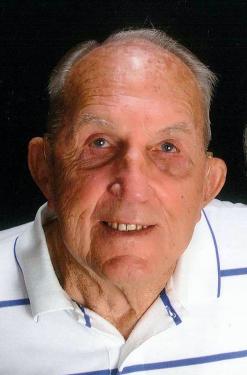 Olin Don Hime, 87, of Shawnee, Kan., died Friday, Aug. 28, 2015, at Shawnee Mission Medical Center.
Born Dec. 15, 1927, in Centerville, Kan., Olin was the eldest child of Olin Don and Myrtle I. (Johnson) Hime. He grew up in Centerville and surrounding areas, attending school in Blue Mound. His family settled in Farlinville, Kan., and Olin graduated from Mound City High School with the class of 1946.
Shortly after graduation, he enlisted in the United States Navy and was stationed in Washington, D.C., where he worked in top secret communications from 1946 until he was honorably discharged on March 19, 1948. Olin never divulged the information entrusted to him and kept these matters top secret for the rest of his life. After returning home from the Navy, he worked in the hay fields of western Kansas.
On July 30, 1949, Olin married the love of his life, Thresa "Roberta" Obermeier, in Paola, Kan. Olin worked on a local bridge crew and they made their home in Osawatomie where they attended the First United Methodist Church. Olin later took a position with the Missouri Pacific Railroad and began a four-year apprenticeship to become a carman. He then transferred to the Rock Island Railroad which later became the Southern Pacific Railroad. The railroad kept the family on the move for many years; from Osawatomie to Holton in 1957, Topeka in 1958, Overland Park in 1960, and Florissant, Mo., in 1969. In 1979, the family finally settled in Shawnee, Kan. Olin retired from the railroad as an Assistant District Mechanical Officer in December, 1989, after more than 40 years of service. He was a member of the Brotherhood of Railway Carmen.
Olin was a talented backyard gardener. He raised wonderful tomatoes among other plants and produce. He enjoyed fishing, as well as deer hunting with his son. He was a devoted KU Basketball fan and delighted in teasing his great-granddaughter…a K-State girl. Over the years, Olin and Roberta collected a beautiful assortment of Imperial Slag Glass. He liked refurbishing antique travel trunks and engaging in various fix-it projects. As an avid genealogist, Olin spent many hours compiling family histories with Roberta. They enjoyed their trips to Ohio and other areas of the Midwest conducting research.
After retirement, he and Roberta traveled to many different states, including Arizona, Florida, Washington, Oregon, Wyoming, Maryland and New York. They visited Niagara Falls, the Atlantic Ocean, Yellowstone National Park, and even traveled to Canada.
Olin was preceded in death by his parents; his brother Lowell Hime; and his daughter Connie Jeanne Hime.
He is survived by Roberta, his wife of 66 years; daughter Teresa Gail Grimes and husband David, of Poplar Bluff, Mo.; son David Hime and wife Susan, of Paola, Kan.; brother Charles "Bill" Hime of Oskaloosa, Kan.; sister Katherine "Katie" Jones and husband Ted, of Osawatomie, Kan.; sister Artie Stuteville of Paola, Kan.; and sister Cora Evans and husband David, of Paola, Kan. He also leaves behind five grandchildren, David J. Grimes and wife Rachael, Teresa Markos and husband Geoff, James Grimes and wife Tiffaney, Dennis Chanay II and Erin Hime; as well as seven great-grandchildren, Noah Grimes, Holly Grimes, David D. Grimes, Riley Grimes, Kiersten Markos, Kris Markos, Olivia Grimes, and another baby girl on the way.
Olin was a wonderful family man who will be fondly remembered by his many family members and a lifetime of friends.
Visitation was Tuesday evening, services will be 10 a.m. Wednesday, Eddy-Birchard Chapel with burial to follow, Centerville, Kan., Cemetery with military honors. Memorial: Donor's Choice in memory of Olin D. Hime. Leave condolences at: www.eddybirchard.com.
OBITUARIES

Linn County News Published March 29, 2023 Debra Dale Wolf, age 68, Linn Valley, Kan., passed away Wednesday, March 22, 2023. Graveside funeral service will be held 2 p.m. Wednesday, March 29, 2023, at the Trading Post Cemetery. Memorial contributions... [More]

Linn County News Published March 29, 2023 Jessica Erin Cox, beloved daughter, and granddaughter, passed away at her home in Lawrence, Kan., March 20, 2023. Jessica was born Nov. 15, 1979, at the University of Kansas Medical Center. She was a graduate of Shawnee... [More]

Linn County News Published March 29, 2023 Larry Ray Oliver, age 69, Pleasanton, Kan., passed away on Wednesday, March 22, 2023. Funeral service will be at 6 p.m. on Saturday, March 25, 2023, at the Schneider Funeral Home and Crematory, Pleasanton Chapel. Visitation... [More]
More Obituaries
View All Obituaries
NEWS

Governor Laura Kelly issued a verbal declaration of disaster emergency this morning, March 31, due to the potential for wildland fires and severe storms in the state. The declaration will allow the state to preposition assets for a quicker response to any fires... [More]

During the latter part of the meeting on Monday, March 27, Linn County Commissioners discussed the walk-through on Wednesday, March 22 at the former Memaw's Kitchen located at 6th and Main Streets in Pleasanton. Economic Development Director Jessica Hightower read notes... [More]

"Positive ramifications" for the city Following a 15-minute legal session called by Linn Valley Mayor Cindy Smith at their Monday meeting, the mayor announced a preliminary agreement with Rural Water District #1 for water rights in Linn Valley. Smith... [More]
More News
SPORTS

The Prairie View Buffalos competed in the State Powerlifting meet on March 25. The meet had 285 total lifters and the Buffalos took 16 boys and nine girls to the event. Prairie View had two lifters place second in their respective weight divisions at the meet. Rhett Jackman,... [More]

The Jayhawk baseball and softball teams opened their 2023 season at home against Southeast Cherokee on March 27. Both softball and baseball teams played a double header and the boys split while the girls swept the Lancers. Baseball won their first game 3-0 but lost the second... [More]
More Sports

OBITUARIES POLICY
• May be mailed, e-mailed, faxed or hand delivered.
• Must be received by 9 a.m. on Tuesday morning in order to appear in that week's edition.
• Full obituaries submitted by individuals are required to be paid in advance.
• Obituaries submitted by funeral homes will be billed to the funeral home.
• Cost: $30 for 300 words or less. Each additional word over 300, 10¢. Photograph $5.
Call Barbara at 913-352-6235 or e-mail linncountynewsreporter@gmail.com