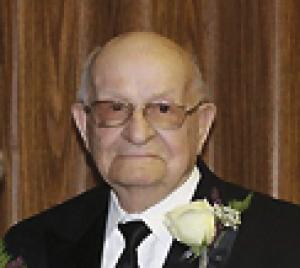 Ormonde Richard Frank Beltz, 91, of Fort Scott, passed away Saturday evening, Oct. 25, 2014 at the Guest Home Estates in Fort Scott. He was born Aug. 30, 1923 in Newman Grove, Neb., the son of August and Cordula Willamine (Pose) Beltz. He was the second of six children, and a life-long member of the Lutheran Church-Missouri Synod. His family relocated to the Kansas City, Mo. area during the Great Depression.
He was a dedicated family man who married Carolyn Lucille Sagaser Aug. 29, 1943 in Kansas City, Mo. Ormonde was one of the final surviving WWII veterans in the area. He served in the United States Army, 44th Infantry, in the European Theatre, and was awarded the Silver Star for valor and bravery. After the war, he and Carolyn lived in Kansas City, where he worked as an auto body and fender repairman. Ormonde and Carolyn have four children: Ronald, Cynthia, Mark, and Elisa. They relocated to the Fulton, Kan. area in 1950, where he owned and operated a dairy farm.
Ormonde is survived by his wife of 71 years, Carolyn, of Fort Scott, Kan.; his four children, Ronald Beltz and wife Linda, Cynthia Cooley, Mark Beltz and wife Sharon, all of Fort Scott, and Elisa McKay and husband John of Mission Hills, Kan.; his eldest sister, LaVaughn Hotchkin of Independence, Mo.; seven grandchildren, and ten great-grandchildren.
He was preceded in death by his parents; a sister, Verna Bell C. Richardson; and three brothers, Myron Dale Beltz, Lewellyn Warren Beltz, and Arland Lawrence Beltz.
Pastor Steven Sweyko will conduct funeral services at 10 a.m. Thursday, Oct. 30, 2014 at the Trinity Lutheran Church in Fort Scott with burial following at the Fort Scott National Cemetery under the direction of the Konantz-Cheney Funeral Home. The family will receive friends Wednesday evening, Oct. 29, 2014, from 6:30-8 p.m. at the funeral home. Memorials may be made to the Trinity Lutheran Food 4 Summer children's lunch program and left in the care of the Konantz-Cheney Funeral Home, 15 W. Wall Street, PO Box 309, Fort Scott, KS 66701. Condolences may be emailed to expressions@konantz-cheney.com.
OBITUARIES

Linn County News Published May 24, 2023 Gene Raymond Mitchell, 84 years, passed away on November 24, 2022 in his home Grand Rapids, Mich. He was born in Kansas City, Kan., the third child of Otto and Ruby Mitchell. Preceded in death by his parents and brother,... [More]

Linn County News Published May 17, 2023 Richard Scott Secrest, age 93 of Nevada, Mo., formerly of Pleasanton, Kan., passed away on Tuesday, May 16, 2023. He was born the son of Ancil and Beulah (Jackson) Secrest on May 29, 1929, at Edgerton, Kan. Richard married... [More]

Linn County News Published May 17, 2023 Donald Raymond Wier, age 82, of Denton, Texas, passed away on May 11, 2023. The second child of Lloyd Elmer and Thelma Olan (Meek) Wier, Don was born on July 9, 1940, in Fort Scott, Kan., a farm kid who excelled in... [More]
More Obituaries
View All Obituaries
NEWS

Saturday, May 27 Linn Valley Memorial Day ceremony at the memorial at 10 a.m. Prescott Cemetery Memorial Day ceremony at 10:30 a.m.; a potluck lunch will follow at the Community Building in Prescott with the city providing the meat, drinks and table service.... [More]

Frustration has reached a boiling point; frustration from property owners who have had their gate entry cards cut off and frustration from Tanglewood Lakes board members at continued damage they are seeing to lake property. Events reached a heightened state after Kansas State... [More]

Amid a packed house, Linn County Attorney Burton Harding provided an update for commissioners and the public on an incident that took place at Tanglewood Lakes on Thursday, May 18. Harding stated that on Friday afternoon his office received videos and reports from the Sheriff's... [More]
More News
SPORTS

The Jayhawk-Linn softball team competed in the 2-1A Regional tournament hosted by Uniontown on May 15-16. The Hawks won the tournament and earned a sport in the 2A State tournament in Pratt on May 25-26. Jayhawk was the two seed with a 13-3 record and first played the seven... [More]

The Prairie View track team traveled to compete in their 3A Regional meet in Fredonia on May 18. The Regional meets determine who will participate in the State track meet as the top four placers in each event goes to State. The Buffalos sent a total of eight athletes to State,... [More]
More Sports

OBITUARIES POLICY
• May be mailed, e-mailed, faxed or hand delivered.
• Must be received by 9 a.m. on Tuesday morning in order to appear in that week's edition.
• Full obituaries submitted by individuals are required to be paid in advance.
• Obituaries submitted by funeral homes will be billed to the funeral home.
• Cost: $30 for 300 words or less. Each additional word over 300, 10¢. Photograph $5.
Call Barbara at 913-352-6235 or e-mail linncountynewsreporter@gmail.com