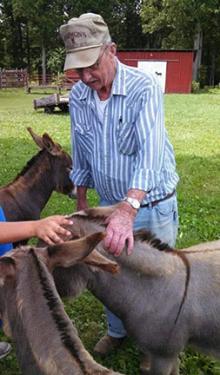 Linn County News
Published June 9, 2021
Paul Russell Slater, age 90, formerly of Pleasanton, Kan., passed away Thursday, June 3, 2021, in Olathe, Kan. Paul was born the son of John and Ethel Ison Slater on Aug. 15, 1930, at Pleasanton. He graduated from Pleasanton High School and married Barbara Thomas on Jan. 9, 1955, in Pleasanton, to this union three children were born, Rodney, Jane and Jon, they preceded him in death. Over the years Paul worked as a coal miner, oil rig worker and operated large drag lines for the mining companies. He enjoyed fishing and going hunting with the Payne's, he also owned a donkey farm, was a very talented woodworker and an avid coffee drinker.
Paul was preceded in death by his parents and children. He is survived by his wife Barbara; daughter-in-law, Michelle Slater; a sister, Betty Secrest (Dick); eight grandchildren, Rodney, Christopher, Jennifer, Travis, Susan, Samantha, Nicholas and Henry; seven great grandchildren, Luke, Alexandria, Ethan, Jon, Kalub, Taylor and Kyenna,
A graveside service will be held at 2 p.m., Wednesday, June 9, 2021, at the Pleasanton Cemetery. Visitation will be from 6 to 8 p.m., Tuesday, June 8, 2021 at the Schneider Funeral Home and Crematory, Pleasanton Chapel. Online condolences may be left at www.schneiderfunerals.com.
OBITUARIES

Linn County News Published June 23, 2021 Adeline Joy Weien, infant daughter of Cody Weien and Jennifer Younger of La Cygne, Kan., passed away on Sunday June 13, 2021. She was born on Dec. 30, 2020, in Overland Park, Kan. She was preceded in death... [More]

Linn County News Published June 16, 2021 Robert Dale Hopkins, age 71, Prescott, Kan., passed away on Saturday, May 22, 2021. Graveside service will be held at 1 p.m., Saturday, June 19, 2021 at the Prescott Cemetery. Contributions are suggested to Disabled... [More]

Linn County News Published June 16, 2021 David R. Jackson, age 81, of rural La Cygne, Kan., passed away suddenly at his home Thursday, June 10, 2021. He had been in ill health the past few months. David was born Aug. 11, 1939, in La Cygne... [More]
More Obituaries
View All Obituaries
NEWS

Friday, June 11 started off like a typical late spring day but once afternoon hit, it was no typical day. Blue Mound experienced what locals estimated to be 80 to 90 mph straight-line winds, four to six inches of rain in 20 minutes and the ensuing damage created from the quick... [More]

Linn County Commissioner Rick James announced during the meeting of the county commissioners on Monday, June 14 that he had spoken with Larry Goldberg of the Goldberg Group in regards to the $196,000 change order that had been discussed at several meetings. Change Order No.... [More]

Parker city leaders are scheduled to decide at next month's 7 p.m. July 8 meeting their plan for chip seal maintenance of city streets. At their monthly meeting last Thursday, Mayor Cody Adams said two factors need to be decided prior to next month's meeting, the... [More]
More News
SPORTS

Once again the Linn County high schools had a good track season and each school sent multiple athletes to the State track meet in Wichita. In this article we will look at some of the top high school track athletes from Pleasanton, Prairie View and Jayhawk-Linn. Isaiah Bates... [More]

In Linn County high school sports there are several teams that stand out. The track and wrestling teams usually send multiple people to State. Both Prairie View softball and Jayhawk softball have been very good the past few seasons, and the football teams have had some good years,... [More]
More Sports