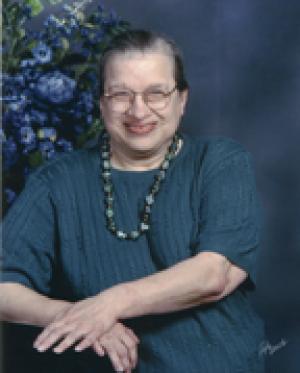 Rita Anne Wilson, 68, of Osawatomie, Kan., died Thursday, Dec. 18, 2014, at Miami County Medical Center of Paola, Kan. Rita was born in Beagle, Kan., April 11, 1946, to James and Elsie (Loch) Wilson. Rita is the second of four children. When she was born (prematurely, and weighing only about four pounds while wrapped in a heavy blanket and measured on her grandpa's fishing scales—and we all know fishing scales weigh heavy), the doctor did not believe that she would live more than a few years at best. As a child, Rita attended Special Education classes at Parker Elementary School in Parker, Kan., for a very short time.
In January 1952, Rita went to Parsons State Hospital & Training Center where she remained until June 1961. At this time, Rita moved back home with her family in Parker, Kan. In 1975, Rita began attending Tri-Ko, Inc.'s Work Activity Center, while she remained living with her family. She worked untiringly in the sheltered workshop that her parents were instrumental in starting which now serves a three-county area. Rita continued to attend Tri-Ko, Inc.'s WAC until 1989, when she was discharged from the program, at the request of her parents. In 1993, Rita was readmitted into Work Activity Center.
She refused to retire when she became eligible, because she loved going to work. On March 25, 2000, Rita moved from her family home in Garnett, Kan., into the Garnett Group Home. After her parents moved to Vintage Park in Osawatomie, Rita moved to Osawatomie to continue to be near her parents.
Although she was what used to be called "profoundly retarded," she touched so many lives. She cared deeply for her family and friends. Her speech was intelligible only to those who knew her well. She had a smile for just about everyone she met. She gave the best hugs and no one could leave without getting one. For many, many years she was the "acolyte" for the First United Methodist Church in Parker, Kan. Rita took great pride in being the one to light the candles on the altar. Rita's love for Elvis was deep. She was always excited when she bought a new pair of shoes and would show them off. Rita was the biggest advocate in showing off the new babies in the family. Her latest love was watching Nascar Racing and she often called her brother to share the excitement. She will be missed by her family as well as everyone who ever met her. She was one of God's very special angels on this earth, and now she has her wings for real.
Rita was preceded in death by her father and one sister, Marsha Gae Wilson.
She is survived by her mother ,Elsie Wilson, of Garnett, Kan.; one sister, Carolyn (Charles) Dunlop of Parker, Kan.; one brother, James H. (Linda) Wilson Jr., of Grove, Okla.; and many other family and friends.
Services were held Monday, Dec. 22, 2014, at the First United Methodist Church, Parker, Kan., with burial at the Parker Cemetery. Memorials may be made to: Tri-Ko or First United Methodist Church of Parker and may be sent in care of Eddy Birchard Funeral Home P.O. Box 430, Osawatomie, KS 66064. Condolences may be left at www.eddybirchard.com.
OBITUARIES

Published in the Linn County News Karen Joyce Hughes Kidwell, 73, of Linn Valley, Kan. passed away September 10th at her home. She was born Sept. 9, 1948 in Kansas City, Kan. She was a graduate of Shawnee Mission North High School, Bethany Hospital... [More]

Linn County News Published Sept. 15, 2021 Leota Vondell Burris, age 85, Mound City, Kan., passed away on Thursday, Sept. 9, 2021. She was born in Marceline, Mo., on Aug. 30, 1936, the daughter of Thomas B. and Estel A. Watson Adams. She... [More]

Linn County News Published Sept. 15, 2021 Janet (Brown) Maschino, 64, of rural Pleasanton and Parsons, passed away peacefully at 3:13 a.m. Thursday, Sept. 9, 2021, at her daughter's home in Erie. Janet's story starts on March... [More]
More Obituaries
View All Obituaries
NEWS

By JACKIE TAYLOR Linn County News jackielcn@linncountynews.net Consumers beware as President Biden's $3.5 trillion spending package advances through Congress as much of the cost will come from new oversight on personal checking accounts. The oversight... [More]

Former Cox Motor Co. building, potential site for school By JACKIE TAYLOR Linn County News jackielcn@linncountynews.net Entering executive session for data relating to partnerships, the Pleasanton City Council spent 50 minutes discussing a partnership... [More]

A hearing at Linn County District Court for 2019-CR-000210, State of Kansas versus Lonnie Shane Martin, was held Friday afternoon for a no go preliminary where Assistant County Attorney Justin Meeks informed District Judge Terri Johnson that the state was withdrawing... [More]
More News
SPORTS

It's been a bumpy start to the 2021 season for Jayhawk-Linn's football team. A roster with 19 underclassmen (freshmen and sophomores) among its 32 members missed both their Aug. 27 home jamboree with Pleasanton and Erie because of COVID-19 and its scheduled... [More]

BY ADAM HOLT LINN COUNTY NEWS holtadam82@yahoo.com The Prairie View cross country teams traveled to Fort Scott on Sept. 9 to compete in the Fort Scott Invitational. The Buffalos again performed well as the varsity girls won as a team. Head Coach Marcie Caldwell... [More]
More Sports
OBITUARIES POLICY
• May be mailed, e-mailed, faxed or hand delivered.
• Must be received by 9 a.m. on Tuesday morning in order to appear in that week's edition.
• Full obituaries submitted by individuals are required to be paid in advance.
• Obituaries submitted by funeral homes will be billed to the funeral home.
• Cost: $30 for 300 words or less. Each additional word over 300, 10¢. Photograph $5.
Call Barbara at 913-352-6235 or e-mail reporter@linncountynews.net