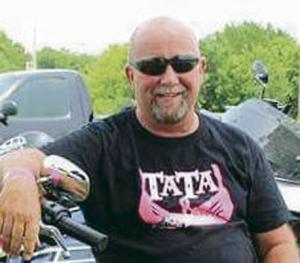 Linn County News
Published Aug. 30, 2017
Robert Dean "Weenie" Schoenhals, age 56, of Pleasanton, Kan., passed away Aug. 22, 2017, as the result of an automobile accident. He was born on Sept. 28, 1960, at Miami, Okla., the son of J. Don and Helen Loletta "Pete" Dickson Schoenhals.
He graduated from Miami High School in the Class of 1978. He married Shelli Cox on July 17, 1982.
Dean had an entrepreneurial spirit. He owned and operated North Side Auto, and worked at several other jobs. Dean's real passion was providing great food, superior service and a friendly atmosphere to the people of Pleasanton and people from near and far as well. He did this while owning and operating Northside BBQ, Dean's Pub and Grub and the Back Door Saloon.
Dean loved his family and enjoyed spending time with friends and riding his motorcycle.
He was preceded in death by his parents.
He is survived by his wife Shelli; four children, Jaisha Murillo and Rafael, Trae Schoenhals and Becca, Rance Schoenhals, and Shaila Schoenhals and Nathan; two sisters, Dona Wyrick and Connie Shaffer; and four grandchildren, Gabriel, Amaris, Lynndee and Maxximus.
Visitation will be held from 2 to 4 p.m. Saturday, Aug. 26, 2017, at the Schneider Funeral Home, Pleasanton Chapel. A motorcycle ride in memory of Dean will be held after the visitation. A Celebration of Life will be held later that evening from 7-10:30 p.m. at the Van Lerberg Ranch, 22348 Valley Road, La Cygne, Kan. Please feel free to bring a covered dish or snacks.
The family suggests contributions to the Pleasanton United Methodist Church, Grady's Kids or Care to Share. Online condolences for the family may be left at www.schneiderfunerals.com. Arrangements: Schneider Funeral Home, Pleasanton Chapel.
OBITUARIES

Linn County News Published March 29, 2023 Debra Dale Wolf, age 68, Linn Valley, Kan., passed away Wednesday, March 22, 2023. Graveside funeral service will be held 2 p.m. Wednesday, March 29, 2023, at the Trading Post Cemetery. Memorial contributions... [More]

Linn County News Published March 29, 2023 Jessica Erin Cox, beloved daughter, and granddaughter, passed away at her home in Lawrence, Kan., March 20, 2023. Jessica was born Nov. 15, 1979, at the University of Kansas Medical Center. She was a graduate of Shawnee... [More]

Linn County News Published March 29, 2023 Larry Ray Oliver, age 69, Pleasanton, Kan., passed away on Wednesday, March 22, 2023. Funeral service will be at 6 p.m. on Saturday, March 25, 2023, at the Schneider Funeral Home and Crematory, Pleasanton Chapel. Visitation... [More]
More Obituaries
View All Obituaries
NEWS

Marais des Cygnes National Wildlife Refuge is celebrating National Walking Day on Wednesday, April 5th by inviting the public to come out and walk with a ranger for a preview of our new trail. The Visitor Center and new exhibits will be open form 4-6 PM and... [More]

MIAMI & LINN COUNTY – On Wednesday morning, the Kansas Bureau of Investigation (KBI), the Miami County Sheriff's Office, the Linn County Sheriff's Office, the Osawatomie Police Department, and the Pleasanton Police Department arrested six individuals... [More]

After meetings discussing the Linn County Comprehensive Plan and where the county should be as to allowing wind turbines, the Linn County P&Z said no 5-3 to allowing any turbines in the county. P&Z Commission Chair Richard Morrell brought the subject up after several... [More]
More News
SPORTS

The season for the Linn County high school boys' basketball teams is over and it's time for this year's All County Boys' Basketball team. This year, there is a first and second team with five players on each team from the three local high schools, Prairie... [More]

The season for the Linn County high school girls' basketball teams is over and it's time for this year's All County Girls' Basketball team. This year, there is a first and second team with five players on each team from the three local high schools,... [More]
More Sports

OBITUARIES POLICY
• May be mailed, e-mailed, faxed or hand delivered.
• Must be received by 9 a.m. on Tuesday morning in order to appear in that week's edition.
• Full obituaries submitted by individuals are required to be paid in advance.
• Obituaries submitted by funeral homes will be billed to the funeral home.
• Cost: $30 for 300 words or less. Each additional word over 300, 10¢. Photograph $5.
Call Barbara at 913-352-6235 or e-mail linncountynewsreporter@gmail.com