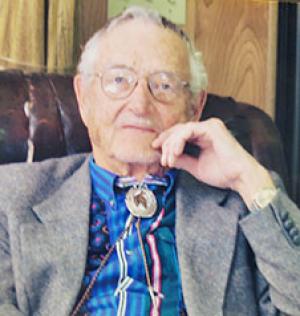 Linn County News
Published September 20, 2023
Roland Jerome "Jerry" Rowe, age 95, of Iola, Kan., passed away Sept. 12, 2023, at Heritage Health Center, Chanute, Kan. Jerry was born at home on Jan. 18, 1928, in Bazine, Kan. He was the oldest of four children born to Roland Vernon Rowe and Millie (Mounce) Rowe.
Jerry attended school in Bazine and Garnett, Kan. He graduated in 1946 from Blue Mound High School, Blue Mound, Kan. Jerry was on the football team when they went undefeated. After high school he joined the United States Air Force and spent two years in the military.
Jerry and Rosalie Rebecca Priest were married on January 27, 1952, in Ozark, Ark.
Jerry and Rosalie moved to Ruskin Heights, Mo., where he worked at the Leeds GM Plant in Kansas City. Jerry and Rosalie moved to a farm between Blue Mound and Mound City in 1962, where he farmed and did construction.
Jerry lived through a lot of things, including the 1930's dust bowl in western Kansas and a tornado that destroyed the family home in Ruskin Heights in 1957. Jerry enjoyed playing his guitar, banjo, harmonica, and mandolin. He was a 50-year member of the Kansas Old Time Fiddlers, Pickers, and Singers, Inc.
Jerry was preceded in death by his wife, Rosalie; his parents; sister, Bonnie Roper;
OBITUARIES

Linn County News Published September 20, 2023 Daniel Glen Needham took the long way home on Sept. 6, 2023, after fighting a long battle against cancer. We are sure he had to stop along the way and check out all the new fishing holes and visit with everyone he met... [More]

Linn County News Published September 20, 2023 Phyllis Irene Best, age 75, Grain Valley, Mo., passed away Thursday, Sept. 14, 2023. A graveside funeral service will be held 11 a.m. Wednesday, Sept. 20, 2023, at the Curry Cemetery. Visitation will be... [More]

Linn County News Published September 20, 2023 Jean Frances Patterson (nee Ward) 86, of St. Louis, Mo., passed away Monday Sept. 11, 2023 in Mercy Hospital. She was a resident of St. Louis for 60 years but remained loyal to her native Kansas where she was born... [More]
More Obituaries
View All Obituaries
NEWS

A full room greeted seven of nine members of the Linn County Planning and Zoning Commission last Tuesday at their normally scheduled meeting. The crowd attended in response to apparent contracts being circulated through locations in the county asking landowners to lease property... [More]

Field questions from local residents on regulations Following an executive session for legal matters, County Counselor Gary Thompson explained to the commissioners and those attending the meeting that he had reached out to three different attorneys who have extensive... [More]

Parker city leaders have given its police force the go-ahead to purchase two body camera/taser systems. The 3-0 vote, with Kandice Higgins and Jerry Summers not present, came during last Thursday's monthly council meeting but only after city leaders agreed that this year's... [More]
More News
SPORTS

The Jayhawk Linn football team is now 3-0 after a 56-0 thrashing of Uniontown on the evening of Sept. 15. It was all Jayhawk in their home opener as the Hawks dominated in all three phases of the game. The first offensive play from scrimmage resulted in points as Jayhawk quarterback... [More]

The Pleasanton volleyball team was certainly busy this past week as the team hosted Rich Hill on Sept. 11, hosted a Three Rivers League quad on Sept. 12, and traveled to Humboldt for a tournament on Sept. 16. The Lady Jays played a best out of five matchup against Rich Hill... [More]
More Sports
OBITUARIES POLICY
• May be mailed, e-mailed, faxed or hand delivered.
• Must be received by 9 a.m. on Tuesday morning in order to appear in that week's edition.
• Obituaries submitted by funeral homes will be billed to the funeral home.
• Full obituaries submitted by individuals are required to be paid in advance.
• Cost: $40 for 300 words or less. Each additional word over 300, 10¢. Photograph $5.
Call Barbara at 913-352-6235 or e-mail linncountynewsreporter@gmail.com