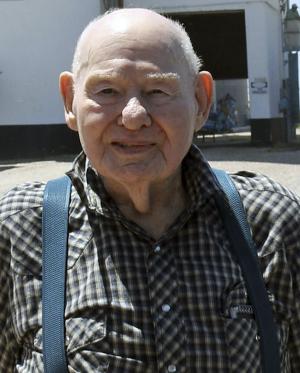 Linn County News
Published May 15, 2019
Ronald Ray Huffman, age 87 of Pleasanton, Kan., died Thursday, May 9, 2019, at Guest Home Estates Assisted Living. Ronald was born May 20, 1931, in Grigston, Kan. He was the youngest of eight children born to Milo Robert and Gertrude Mae (Raney) Huffman. Ronald grew up in the Scott City, Kan., area, graduating from Scott City High School.
After high school, Ronald worked for the family farm for a short time. He then enlisted into the United States Army. He was honorably discharged.
Raymond went to work for the Santa Fe Railroad as a signal man for 15 years. Then he worked for Kansas City Power & Light as an electrician until the early 2000's when he retired.
On Feb. 19, 1968, Ronald married Dorothy A. Loch in Newton, Kan. They made their home in Fontana, Kan., before moving to Perry, Okla. They later moved to Amoret, Mo., and had lived in Pleasanton since May 1986.
Even after retirement, Raymond continued to do electrical work for people in his community.
He was preceded in death by his wife Dorothy, parents and siblings.
He is survived by his stepchildren, Ken Servos, Kay McMurray, Vicki Davis and Trish Said; along with 11 grandchildren, nieces, nephews and other family.
Visitation was scheduled for 6-8 p.m. Thursday, May 16, 2019, at Eddy-Birchard Funeral Home, followed by cremation. Burial of Ashes was to be at a later date at Osawatomie Cemetery.
Memorials: Kidney Foundation, send c/o Eddy-Birchard Funeral Home P.O. Box 430, Osawatomie, KS 66064.
OBITUARIES

Linn County News Published December 7, 2022 Kathryn Elaine "Kathy" Newcome passed away Thursday Dec. 1, 2022. Funeral service will be 2 p.m. Monday, Dec. 5, 2022, at the Schneider Funeral Home and Crematory, Pleasanton Chapel. Burial in the Richland Cemetery. Visitation will... [More]

Linn County News Published December 7, 2022 Linda S. Rios, age 63, of Mound City, Kan., passed away in Olathe, Kan., on Nov. 14, 2022. There are no services scheduled. Online condolences may be left at www.schneiderfuneral.com.

Linn County News Published December 7, 2022 Mary Elizabeth Stutes, age 93 formerly of Pleasanton, Kan., went to be with the Lord on Dec. 1, 2022. Graveside Service will be held at 11 a.m., Tuesday, Dec. 6, 2022, at the Pleasanton Cemetery. Visitation... [More]
More Obituaries
View All Obituaries
NEWS

Request options be brought to next meeting During the meeting on Monday, Nov. 28, Linn County Commissioners heard from Landfill Manager Al Doan regarding multiple issues with the Solid Waste Department ranging from the current contract with Arcadia for hauling from... [More]

The Pleasanton City Council reviewed and approved a new trespass policy as provided by City Attorney Burton Harding during the Nov. 28 meeting. The policy sets out parameters for what is considered to be trespassing, as well as appropriate reactions. It notes specifically... [More]

Market Street is a proposed path between La Cygne coal, Wolf Creek nuclear plants Representatives from a Kansas City engineering firm last week presented plans for an Evergy underground conduit-cased fiber optics cable preliminarily proposed to run through La Cygne.... [More]
More News
SPORTS

The 2022 high school football season concluded and it is time for the annual All Linn County football team. The team is decided by stats and watching the boys play. I also try to make the number of boys between schools as even as I can. This season was tough in deciding as... [More]

Ten days prior to their Linn County state border counterparts (including Valentine's Day opponent Pleasanton), Hume began another promising basketball season Nov. 22 with a split decision at Appleton City. The Lady Hornets outscored their hosts in the first three quarters,... [More]
More Sports

OBITUARIES POLICY
• May be mailed, e-mailed, faxed or hand delivered.
• Must be received by 9 a.m. on Tuesday morning in order to appear in that week's edition.
• Full obituaries submitted by individuals are required to be paid in advance.
• Obituaries submitted by funeral homes will be billed to the funeral home.
• Cost: $30 for 300 words or less. Each additional word over 300, 10¢. Photograph $5.
Call Barbara at 913-352-6235 or e-mail linncountynewsreporter@gmail.com