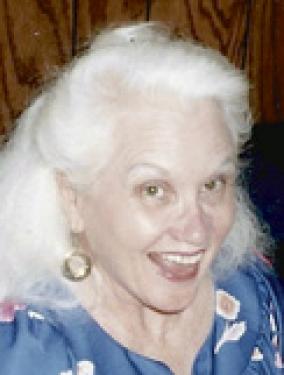 Rosetta Mae Kendall was born in Prescott, Kan. Rosetta was the youngest of three children born to Theron William Kendall and Pearl Victoria Wallace Kendall.
Growing up, Rosetta was quite the tomboy, preferring to play outside with her older brother and his friends instead of being in the house and learning to sew, knit, and crochet. This drove her maternal grandmother pretty crazy, who frequently complained that Rose should get inside and learn those skills like her older sister did. Rosetta's life was forever changed when her father, a line master for the railroad, was killed by a drunk driver while crossing a street when Rosetta was 16 years old.
In 1948, Rosetta and her husband, Omer Leon Hawthorn, were blessed with the birth of their first daughter, Rosetta Lee, while stationed in El Paso, Texas. Daughter Vicky was born while the family was stationed at Camp Parks, Calif., and Gloria was born a year later while they were stationed at Clark AFB in the Philippines. In 195,8 the family was stationed back stateside to Travis AFB.
Rosetta raised her three girls on her own after divorcing in 1960. She always referred to the girls as "my girls." Rose was very proud of the fact that she had the courage to leave an abusive marriage in a time when people didn't get divorced. She worked multiple jobs but always had a home-cooked meal on the table. Rose worked long and hard and earned the affectionate nickname "Tiger." Our Mom taught us the value of hard work, good manners, and honesty. Mom was also an excellent cook and she could bake like nobody's business.
In 1969, she married the love of her life, Gary Person. Gary became Dad to Rose's girls, and for 45 years they shared a life which grew to include new generations of grandchildren and great-grandchildren.
Rosetta leaves behind to cherish her memory three daughters, Rosetta Lee Hawthorn, and Vicky (Jim) Wright, of Fairfield, Calif., and Gloria Hartley of American Canyon, Calif.; five grandchildren, Richard (Dawna) Matthes of Fairfield, Calif., Kendall (Stephen) Mainzer of State College, Pa., John Brandon Gutierrez of San Francisco, Calif., Jimmy Wright and William Wright of San Luis Obispo, Calif.; and two great-grandchildren, Renae Matthes and Sebastian Mainzer.
Rosetta was preceded in death by her husband Gary Person; her sister, Pauline Kendall Cook; her brother, Eugene Kendall; her parents, Theron and Pearl Kendall; and step-father, Oral Hampton.
Arrangements are under the care of Bryan-Braker Funeral Home, Fairfield, Calif., (707) 425-4697. You may sign the guest book at www.bryanbraker.com.
OBITUARIES

Linn County News Published Aug. 10, 2022 Merle A. Beckman, age 86, Mound City, Kan., passed away Wednesday, Aug. 3, 2022. He was born in rural La Cygne, Kan., on Oct. 5, 1935, the son of Charles and Neeva (Neal) Beckman. He graduated from La Cygne Rural High School... [More]

Linn County News Published Aug. 10, 2022 Mary Jo Spencer, age 83, of Mound City, Kan., passed away on Aug. 6, 2022, at Louisburg Healthcare, Louisburg, Kan. She was born Nov. 13, 1938, in Terrell, Texas, to James Downing and Claudie Flower. Mary Jo moved to Lubbock, Texas,... [More]

Linn County News Published Aug. 10, 2022 Larry Sumners, age 68, of Centerville, Kan., passed away on Monday, Aug. 1, 2022, at the Overland Park Regional Medical Center in Overland Park, Kan. Laurence A. Sumners was born on Aug. 16, 1953, at McPherson,... [More]
More Obituaries
View All Obituaries
NEWS

What was a dream a year ago has come to fruition with a ribbon cutting and open house scheduled for Friday, Aug. 12 at 10 a.m. The Southeastern Technical Academy for Rural Students (STARS) is now a reality located in the former Cox Motor Company building at Laurel and 17th Streets... [More]

With the ribbon cutting and open house of the new STARS Technical Academy in Pleasanton slated for Friday, Aug. 12, the staff and instructors at the school opened up recently about their roles and what the program means to them. Phil Mitchell, who will be teaching Construction... [More]

After sending the Linn County Commissioners an email explaining county real estate compliance with state values, the commissioners visited with Linn County Appraiser Kathy Bridges Monday. After initial conversation on the 2021 final ratio study concerning commercial and residential... [More]
More News
SPORTS

The Linn County Fair and Rodeo started this past week with the traditional demolition derby. There were two nights of demo derby action as team derby, modified and figure eight races took place on Aug. 5 while the compact, semi-modified and bone stock took place on the evening... [More]

Linn County has a new competitive softball team, Total Effect Softball, which will be based out of Mound City. Jayhawk-Linn head softball coach Kris Holt started the team and will be the head coach of Total Effect. Holt had multiple reasons on why he wanted to start a competitive... [More]
More Sports

OBITUARIES POLICY
• May be mailed, e-mailed, faxed or hand delivered.
• Must be received by 9 a.m. on Tuesday morning in order to appear in that week's edition.
• Full obituaries submitted by individuals are required to be paid in advance.
• Obituaries submitted by funeral homes will be billed to the funeral home.
• Cost: $30 for 300 words or less. Each additional word over 300, 10¢. Photograph $5.
Call Barbara at 913-352-6235 or e-mail linncountynewsreporter@gmail.com