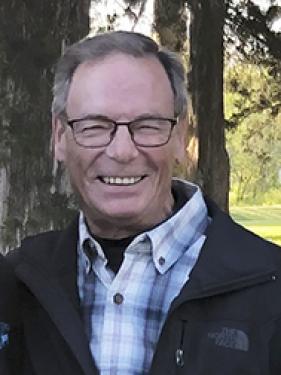 Linn County News
Published March 31, 2021
Roy Lee Clifton, age 68, Pleasanton, Kan., passed away Saturday, March 27, 2021. He was born on Feb. 16, 1953, in Hannibal, Mo., the son of Donald and Dixie (Dove) Clifton. Roy is survived by his wife, Sherrie Clifton; three children, Tonya Umphenour and fiance' Dan Cummings, Tiffani Oliver and husband Brad Oliver, and Tim Clifton and wife Kaylee Clifton; five grandchildren, Kylie Oliver, Ty Umphenour, Kyle Oliver, J.C. Gross and Dally Umphenour; and two great-grandchildren, Emmerson Ayres and Lawson Kuns. Roy is also survived by his brother, Greg Clifton and wife Tina; and sister, Donna Sue Clifton.
Roy was a kind and loving husband to Sherrie for 47 years, meeting in Collinsville, Okla., and marrying on May 11, 1974. Roy was a man of God, baptizing every one of his children and grandchildren. His family often referred to him as the "Bible scholar." As a passion for God's word, he knew his Bible beginning to end. He raised and taught his family to know and trust in the Lord through the good times and the bad times. As he got sick they often asked him "how do you remain so grounded?" His response was always "God is in control and always has a plan." He always showed compassion and grace. Grudges were something Roy didn't do. "Superhero" is an understatement his family says. Roy was the king of "dad" jokes. He could always make an entire room crack up with his dry humor and typically with a straight face. Just like he dealt with his experiences in life, he also managed his illness with strength and grace. In his final moments he was surrounded by his wife and three children who looked up to him as their best friend, their hero and their rock. Roy worked for Kansas City Power and Light for 36 years. During his career at the plant, he started in the coal yard eventually working his way up, becoming a licensed electrician. Roy stated many times to his family, "I truly enjoyed what I did, and even though I worked countless hours, I got to do something I enjoyed and it never seemed too bad." Working hard was truly his second nature, but he also liked to play hard too. His ultimate hobby was raising bluetick coonhounds which he started in the early '80s. Roy's accomplishments in competition coon hunting started in 1982 winning the Kansas State Show with a dog named Tanny. Later on, he won the biggest bluetick hunt in the nation, National Bluetick Days King of Hunt with his bluetick Smoke in 2012 and then repeated this once in a lifetime feat in 2015 with Smoke's son, Deal. In 2017 he put the icing on the cake winning the National Bluetick Reunion King of Hunt with the same bluetick, Deal. He started breeding and hunting "Mad Dog" blueticks in '82 and was still hunting the same line of "Mad Dogs" today. Roy and his son Timmy hunted together for almost 30 years. The pleasure and competition hunts are too many to mention, hunting in several states all across the nation and making friends at every one along the way. Roy enjoyed horses throughout his lifetime, riding Tennessee Walking Horses in his younger years, later developing his love for team roping. His children have many memories of Friday nights at saddle club that extended to his grandchildren and great-grandchildren. Many 4-H horse shows in the summer with Roy helping to groom and prep all the kids' horses for shows, sweating his butt off and rarely showing frustration because, at the end of the day, he was having just as much fun as the kids were.
Funeral service was held Tuesday, March 30, 2021, at the Schneider Funeral Home and Crematory, Pleasanton Chapel, burial in the Littell Cemetery. Contributions are suggested to the Fairmount Community Association. Online condolences can be left at www.schneiderfunerals.com.
OBITUARIES

Linn County News Published December 6, 2023 Robert W. VanWinkle, age 83, La Cygne, Kan., passed away Friday, Dec. 1, 2023. A service to celebrate Bob's life will be announced at a later date. Online condolences can be left at www.schneiderfunerals.com. ... [More]

Linn County News Published December 6, 2023 Jolene Moriconi, 87, of Lawrence, Kan., formerly of Paola, Kan., and Frontenac, Kan., passed away on Thursday, Nov. 30, 2023, at home surrounded by family. She was born May 24, 1936, in Frontenac, Kan., the daughter of... [More]

Linn County News Published Dec. 6, 2023 Perle David Patrick Jr., age 67, Osawatomie, Kan., passed away Sunday, Dec. 3, 2023. Funeral service will be held 2 p.m. Friday, Dec. 8, 2023, at the Schneider Funeral Home and Crematory, La Cygne Chapel. Burial... [More]
More Obituaries
View All Obituaries
NEWS

During the weekly meeting of the Linn County Commissioners on Monday, Dec. 4, Rich Morrell and Charlene Sims with the Linn County Planning Commission each addressed the commissioners in regard to the moratorium and the request to create a committee to work on Section 14. ... [More]

Linn County Clerk David Lamb presented the commissioners with documents to be signed by the commission chair during their weekly meeting on Monday, Dec. 4, in regard to the bond sale last Wednesday to refinance a portion of the original bond for the jail project. Lamb... [More]

Linn County Public Works Director Shaun West noted he had reached out to the fiber installers south of the power plant in reference to questions the commissioners had concerning undone road work. West stated he learned the connection comes into the project from the west and moves... [More]
More News
SPORTS

The Pleasanton basketball team hosted their home opener against Kansas City Christian (KCC) on Dec. 1. The Jays split the varsity games with the girls falling in their game 20-29 and the boys winning big in their game, 78-44. The girls' game started well as the Lady... [More]

Sophomore Brea Dawson scored 12 of her game-high 18 points in the fourth quarter, paving the way for Jayhawk Linn's girls to claim a 43-38 season-opening win at Cass-Midway, Mo., Friday night. Despite a game-high 23 points from junior Braeden Nation, the 'Hawk boys... [More]
More Sports
OBITUARIES POLICY
• May be mailed, e-mailed, faxed or hand delivered.
• Must be received by 9 a.m. on Tuesday morning in order to appear in that week's edition.
• Obituaries submitted by funeral homes will be billed to the funeral home.
• Full obituaries submitted by individuals are required to be paid in advance.
• Cost: $40 for 300 words or less. Each additional word over 300, 10¢. Photograph $5.
Call Barbara at 913-352-6235 or e-mail linncountynewsreporter@gmail.com
View Legals for Free