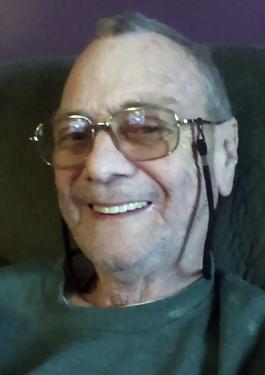 Linn County News
Published Jan. 16, 2019
Roy Luttrell, age 69, of Pleasanton, Kan., passed away on Friday, Jan. 11, 2019, at St Luke's South in Overland Park, Kan. He was born on Jan. 16, 1949, at Borger, Texas, the son of Warren Rufus and Hazel Joyce Eagan Luttrell.
He proudly served his country in the United States Army.
He was married to Bonnie Stacy on May 24, 1990, in Overland Park.
Roy enjoyed gardening, especially growing flowers. He was a photographer by trade, having a true passion for his work. He was a member of the Pleasanton First Christian Church.
He was preceded in death by his parents; a daughter, Christy Luttrell; and two grandchildren, Jeremy and Cassandra.
Roy is survived by his wife Bonnie; a son, Nick Luttrell; a daughter, Kimberly Paradise; three stepchildren, Shane Stacy, Candie Conley and Kathie Stacy; a sister, Brenda Luttrell; thirteen grandchildren, Felisha, Kavonna, Greg, Kevin, Jordan, Jocelyn, Blake, Kayla, Jeremy, Chance, Alex, Chelsea and Dacia; five great grandchildren, Reese, Coy, Rowen, Addy, and Kaitlyn; and his Shih Tzu Buddy and cat Mr. Grey.
A memorial service will be held 3 p.m. Sunday, Jan. 20, 2019, at the Pleasanton First Christian Church.
Contributions are suggested to the Arthritis Foundation. Online condolences for the family can be left at www.schneiderfunerals.com. Arrangements: Schneider Funeral Home and Crematory, Pleasanton Chapel.
OBITUARIES

Linn County News Published September 20, 2023 Daniel Glen Needham took the long way home on Sept. 6, 2023, after fighting a long battle against cancer. We are sure he had to stop along the way and check out all the new fishing holes and visit with everyone he met... [More]

Linn County News Published September 20, 2023 Phyllis Irene Best, age 75, Grain Valley, Mo., passed away Thursday, Sept. 14, 2023. A graveside funeral service will be held 11 a.m. Wednesday, Sept. 20, 2023, at the Curry Cemetery. Visitation will be... [More]

Linn County News Published September 20, 2023 Jean Frances Patterson (nee Ward) 86, of St. Louis, Mo., passed away Monday Sept. 11, 2023 in Mercy Hospital. She was a resident of St. Louis for 60 years but remained loyal to her native Kansas where she was born... [More]
More Obituaries
View All Obituaries
NEWS

A full room greeted seven of nine members of the Linn County Planning and Zoning Commission last Tuesday at their normally scheduled meeting. The crowd attended in response to apparent contracts being circulated through locations in the county asking landowners to lease property... [More]

Field questions from local residents on regulations Following an executive session for legal matters, County Counselor Gary Thompson explained to the commissioners and those attending the meeting that he had reached out to three different attorneys who have extensive... [More]

Parker city leaders have given its police force the go-ahead to purchase two body camera/taser systems. The 3-0 vote, with Kandice Higgins and Jerry Summers not present, came during last Thursday's monthly council meeting but only after city leaders agreed that this year's... [More]
More News
SPORTS

The Jayhawk Linn football team is now 3-0 after a 56-0 thrashing of Uniontown on the evening of Sept. 15. It was all Jayhawk in their home opener as the Hawks dominated in all three phases of the game. The first offensive play from scrimmage resulted in points as Jayhawk quarterback... [More]

The Pleasanton volleyball team was certainly busy this past week as the team hosted Rich Hill on Sept. 11, hosted a Three Rivers League quad on Sept. 12, and traveled to Humboldt for a tournament on Sept. 16. The Lady Jays played a best out of five matchup against Rich Hill... [More]
More Sports
OBITUARIES POLICY
• May be mailed, e-mailed, faxed or hand delivered.
• Must be received by 9 a.m. on Tuesday morning in order to appear in that week's edition.
• Obituaries submitted by funeral homes will be billed to the funeral home.
• Full obituaries submitted by individuals are required to be paid in advance.
• Cost: $40 for 300 words or less. Each additional word over 300, 10¢. Photograph $5.
Call Barbara at 913-352-6235 or e-mail linncountynewsreporter@gmail.com