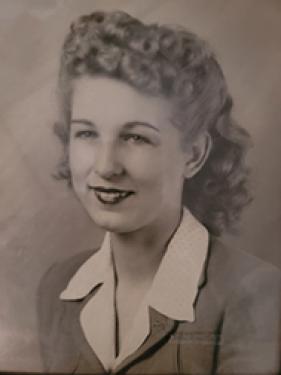 Linn County News
Published Feb. 24, 2021
Ruth Jean Rhynerson, age 96, La Cygne, Kan., passed away Friday, Feb. 19, 2021. She was born on Oct. 8, 1924, in Mound City, Kan., the daughter of Walter "Buck" and Ida Simmons Smith. She graduated from Mound City High School in the Class of 1943. She was united in marriage to Charles Edward Rhynerson, while he was home on leave during World War II, on April 18, 1944. During the war she was employed at Key Industry in Fort Scott, Kan. She also worked at Braemoor's Sewing Factory, cooked for the La Cygne and Prairie View schools, and took care of things around the farm, including milking the cows when her husband was on the road working. Ruth was a member of the Calvary Baptist Church and the Fiddlers and Pickers. She enjoyed playing piano, gardening, playing Canasta, sewing, quilting and crocheting. She made numerous Angel Food cakes for many different birthdays.
She was preceded in death by her parents; a brother, Richard Smith; and a sister, Viola Burke. Ruth is survived by a son, Charles Edward Rhynerson Jr. (Debby); two daughters, Barbara Rhynerson and Beverly Smith (J.); three brothers, Al Smith, Kenny Smith and Robert Smith; a sister, Marjorie Rowe; five grandchildren, Brent, Bryant, Wesley, Travis and Kaysie; 12 great grandchildren; and six great, great, grandchildren.
Funeral was scheduled for 2 p.m. Tuesday, Feb. 23, 2021, Calvary Baptist Church, La Cygne, burial to follow in Star Valley Cemetery, and visitation at 12:30 p.m. to service time at the church. Individual respects and guest registry were to be 9 a.m.-5 p.m. Monday, Feb. 22, 2021, Schneider Funeral Home, La Cygne Chapel. Contributions are suggested to the Wounded Warrior Foundation. Online condolences can be left at www.schneiderfunerals.com.
OBITUARIES

Linn County News Published March 3, 2021 Bruce Michael Mitchell, 67, of Blue Mound, Kan., died Saturday, Feb. 27, 2021, at St. Luke's East Hospital in Lee's Summit, Mo. Bruce was born June 23, 1953, in Moran, Kan., to Lloyd Gene and Betty Jo (Northway)... [More]

Linn County News Published March 3, 2021 Janet Lynne New Keating 70, went to be with her Lord Tuesday, Feb. 23, 2021. She passed away at her home in Bucyrus, Kan., after a prolonged illness. Daughter of Thomas Beauford New and Lora Irene Hewitt New,... [More]

Linn County News Published Feb. 24, 2021 Danny Matthew Bryant, age 52, born in Harrisonville, Mo., peacefully passed away at his home on Feb. 9, 2021. Danny leaves behind his parents, Judy Ridge (David) of Mound City, Kan., and Denzil Bryant (Penny, preceded) of Clinton,... [More]
More Obituaries
View All Obituaries
NEWS

~ Senate Bill 88 provides relief for cities facing utility price spikes due to extreme cold temperatures ~ TOPEKA – Wednesday night, Governor Laura Kelly signed a bill to protect Kansas cities from potential price surges in electricity bills caused by extremely cold temperatures... [More]

Like any natural disaster, a relatively short-term event can result in long-term pain. Such is the case economically from the bitterly cold extended federal holiday weekend of Feb. 13-16. Electricity customers in Blue Mound and Prescott, along with natural gas customers at... [More]

The city of Prescott called a special meeting for Friday, Feb. 26, to discuss and take action on the state of emergency concerning the looming electricity bill associated with the unprecedented cold weather from Feb. 12-17. Temperatures reached subzero readings similar... [More]
More News
SPORTS

The Jayhawk-Linn wrestling team only took one wrestler to the 3-1A State tournament in Hays on Feb. 27 but this year was about quality over quantity. Corbin White became the first wrestling State champion for the Jayhawk wrestling high school program going 3-0 in the... [More]

The Prairie View girls' wrestling team traveled to the State tournament in Salina on Feb. 26. This year the Lady Buffalos took two wrestlers to State in Alyssa Page and Whitley Cox-Halliburton. As a team Prairie View only scored four team points which tied them for... [More]
More Sports