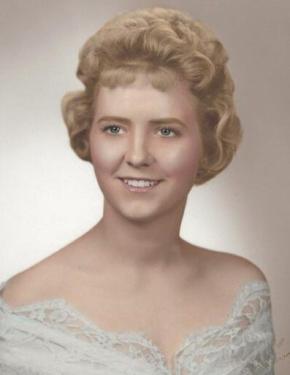 Linn County News
Published Dec. 15, 2021
Sharon Sue Herrmann, age 75, Blue Mound, Kan., passed away Friday, Dec. 10, 2021. She was born July 22, 1946, in Moran, Kan., the daughter of L.M. Brock and Beatrice Davis Brock. She graduated from Blue Mound High School with the Class of 1964. On March 6, 1965, Sharon Sue married Howard Herrmann, the love of her life, after he proposed to her on Christmas Eve, 1964.
Growing up on the farm she learned to drive tractors, help bale hay and milk the cows, but she was also an excellent homemaker and cook. One of her specialties was peach cobbler which was often requested on special occasions. She also enjoyed canning produce from Howard's garden, often putting up many jars of green beans each summer. She worked in the office at the Fort Scott Sale Barn, as a rural mail carrier for several years, and drove a school bus. Her full-time occupation, though, was office manager of Howard's Garage. She was a member of the Blue Mound Federated Church and the American Legion Auxiliary. She enjoyed putting together jigsaw puzzles and nearly always had one on the table that she was working on. She loved to go fishing with Howard and often caught more fish than he did. She also enjoyed playing computer games on her laptop, working in her yard and spending time with her grandkids and great-grandkids.
She was preceded in death by her parents. Sharon is survived by her husband, Howard; two sons, Shawn Herrmann (Debora) and Brandon "Mo" Herrmann (Jenny); a daughter, Jan Miller; two brothers, Ron Brock and Don Brock (Sharon); a sister, Janice Sprague (Dale); four grandchildren, Zac, Derek, Tad and Marcus; and five great-grandchildren, Knox, Fisher, Weslynn, Samantha and Hoyt. She is also survived by her sister-in-law, Keitha Brown, and many nieces and nephews.
Graveside funeral service will be 11 a.m. Thursday, Dec. 30, 2021, at the Pleasant View Cemetery, Blue Mound, Kan. Contributions are suggested to the Blue Moon Youth Center. Online condolences can be left at www.schneiderfunerals.com.
OBITUARIES

Linn County News Published Oct. 11, 2023 Victor Gene, "Vic" Clark, age 85, Mound City, Kan., passed away Monday, Oct. 2, 2023. Graveside service will be 10 am Friday, Oct. 6, 2023, at the Woodland Cemetery in Mound City, Kan. Memorial contributions are suggested... [More]

Linn County News Published Oct. 4, 2023 Vanetta Carol (Hardy) Sabine passed away peacefully at Freeman Hospital in Joplin, Mo., at 5:42 a.m. on Friday, Sept. 29, 2023. She was born June 27, 1944, in Garnett, Kan., to William Orland and Ella Bernice "Margaret"... [More]

Linn County News Published September 20, 2023 Daniel Glen Needham took the long way home on Sept. 6, 2023, after fighting a long battle against cancer. We are sure he had to stop along the way and check out all the new fishing holes and visit with everyone he met... [More]
More Obituaries
View All Obituaries
NEWS

Information was recently disseminated via Facebook concerning potential ground leases that may come before the Linn County Planning and Zoning Commission; the information was part of an online petition to try to stop solar fields. With that, solar companies answered several questions... [More]

Letter from KDWP discussed during meeting During the public comment segment of the commissioner's weekly meeting on Monday, several people in the audience again spoke regarding the current zoning regulations for commercial solar farms. Public comment... [More]

Move solves one of three financial issues Monday night's Unified School District 362 approval at a special meeting of the sale of a vocational-education construction house in La Cygne has solved what appeared to be an impending financial concern. However, two... [More]
More News
SPORTS

The Prairie View football team hosted Burlington on Sept. 22 for their Homecoming game. Homecoming is so much better with a win and the Buffalos provided that as they fought their way to a 44-19 victory. One of the things that won this game for the Buffalos were big runs by... [More]

The Pleasanton cross country team traveled to Prairie View to compete in the Humboldt Invitational on Sept. 19 and then the Ramsey Invitational at Prairie View on Sept. 21. Both junior high and high school runners competed for the Jays at the Humboldt Invitational. Kei-Mahni... [More]
More Sports
OBITUARIES POLICY
• May be mailed, e-mailed, faxed or hand delivered.
• Must be received by 9 a.m. on Tuesday morning in order to appear in that week's edition.
• Obituaries submitted by funeral homes will be billed to the funeral home.
• Full obituaries submitted by individuals are required to be paid in advance.
• Cost: $40 for 300 words or less. Each additional word over 300, 10¢. Photograph $5.
Call Barbara at 913-352-6235 or e-mail linncountynewsreporter@gmail.com
View Legals for Free