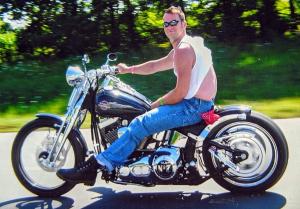 Shawn Aaron Teagarden
02-20-1976 to 11-14-2019
Linn County News
Published Nov. 20, 2019
Shawn Aaron Teagarden, age 43, La Cygne, died as the result of a motor vehicle accident on Thursday, Nov. 14, 2019. He was born in Kansas City, Mo., on Feb. 20, 1976, the son of Joe and Vicki Leister Teagarden.
Shawn was a member of Cadmus 4H club as a youth. Shawn graduated from Prairie View High School in 1994, where he enjoyed football and FFA. He attended Kansas State University where he was a member of Alpha Gamma Rho Fraternity and could often be found bartending patrons at The Aggie Lounge, and later as an adult received a bachelor's degree in business administration from Baker University.
He was united in marriage to his truest love, Randa (Rockers) Reese on Sept. 8, 2012, at Casa Somerset outside of Paola, Kan.
He worked for KCP&L as a plant equipment operator at the La Cygne Generating Station for 11 years and was a member of the IBEW Local No. 412. Shawn enjoyed his job and coworkers very much. He was a well-respected operator.
Shawn enjoyed riding his Harley Softail Springer that he built, shooting guns with his brother, wife, children and friends, listening to his favorite music, going to concerts, vacationing on the beach, eating seafood, and socializing with friends, and was a fantastic cook. Shawn was a lover of animals and had six pets; three cats, Iceman, Ace and Misty Day; and three dogs, Rayne (Australian shepherd), Murphy (border collie) and, his most beloved baby dog, Daisy Mae (toy poodle). Yes, that big, tough man with his toy poodle made everyone smile.
Shawn was quick witted, usually with a smirk or sinister grin and a punchy comeback line. He didn't mince words and lived life to the fullest. He had a tough exterior but a tender heart for those he loved most.
He is survived by his wife, Randa; children, fraternal twins Ben and Jordan Reese, of the home, Becca Reese, Grandview, Mo., and identical twins, Cooper and Carter Jensen, of Northeast Kansas; parents Joe and Vicki Teagarden, La Cygne; brother Scott Teagarden and wife Baylee; nephew Wesley and niece Ellie Lou of La Cygne; grandparents Charles and Marlene Leister of Salina, Kan.; and numerous relatives including aunts, uncles and cousins.
A Celebration of Life will be held 6 p.m. Friday, Nov. 22, 2019, at Wicked Outfitters, 22802 Valley Road, La Cygne. A time of remembrance and sharing will follow the service until 9 p.m.
Contributions are suggested to Grady's Kids or Shawn Teagarden Children's Education Fund, c/o Schneider Funeral Home, P.O. Box 304, La Cygne, KS 66040. Online condolences can be left at www.schneiderfunerals.com.
OBITUARIES

Linn County News Published March 29, 2023 Debra Dale Wolf, age 68, Linn Valley, Kan., passed away Wednesday, March 22, 2023. Graveside funeral service will be held 2 p.m. Wednesday, March 29, 2023, at the Trading Post Cemetery. Memorial contributions... [More]

Linn County News Published March 29, 2023 Jessica Erin Cox, beloved daughter, and granddaughter, passed away at her home in Lawrence, Kan., March 20, 2023. Jessica was born Nov. 15, 1979, at the University of Kansas Medical Center. She was a graduate of Shawnee... [More]

Linn County News Published March 29, 2023 Larry Ray Oliver, age 69, Pleasanton, Kan., passed away on Wednesday, March 22, 2023. Funeral service will be at 6 p.m. on Saturday, March 25, 2023, at the Schneider Funeral Home and Crematory, Pleasanton Chapel. Visitation... [More]
More Obituaries
View All Obituaries
NEWS

Marais des Cygnes National Wildlife Refuge is celebrating National Walking Day on Wednesday, April 5th by inviting the public to come out and walk with a ranger for a preview of our new trail. The Visitor Center and new exhibits will be open form 4-6 PM and... [More]

MIAMI & LINN COUNTY – On Wednesday morning, the Kansas Bureau of Investigation (KBI), the Miami County Sheriff's Office, the Linn County Sheriff's Office, the Osawatomie Police Department, and the Pleasanton Police Department arrested six individuals... [More]

After meetings discussing the Linn County Comprehensive Plan and where the county should be as to allowing wind turbines, the Linn County P&Z said no 5-3 to allowing any turbines in the county. P&Z Commission Chair Richard Morrell brought the subject up after several... [More]
More News
SPORTS

The season for the Linn County high school boys' basketball teams is over and it's time for this year's All County Boys' Basketball team. This year, there is a first and second team with five players on each team from the three local high schools, Prairie... [More]

The season for the Linn County high school girls' basketball teams is over and it's time for this year's All County Girls' Basketball team. This year, there is a first and second team with five players on each team from the three local high schools,... [More]
More Sports

OBITUARIES POLICY
• May be mailed, e-mailed, faxed or hand delivered.
• Must be received by 9 a.m. on Tuesday morning in order to appear in that week's edition.
• Full obituaries submitted by individuals are required to be paid in advance.
• Obituaries submitted by funeral homes will be billed to the funeral home.
• Cost: $30 for 300 words or less. Each additional word over 300, 10¢. Photograph $5.
Call Barbara at 913-352-6235 or e-mail linncountynewsreporter@gmail.com