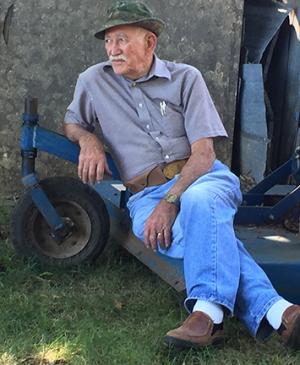 Linn County News
Published Oct. 27, 2021
Thomas (Tom) Eugene Thompson passed away on Oct. 18, 2021, at the age of 94, in his daughter's home in Overland Park, Kan. He was a tough man who had fought and beaten cancer several times throughout his life, but this latest bout would prove to be his last. He is now at peace.
Tom was born in Linn County, Kan., on Feb. 12, 1927, to Bill and Myrtle (Wilson) Thompson. He grew up as the sole child on the family farm. He graduated high school in 1945. Upon graduation, Tom enlisted in the U.S. Navy and served briefly during World War II.
After his Navy days, Tom attended Kansas State University and graduated in 1951 with a degree in electrical engineering. Shortly after, he started work in Michigan, where he would spend most of his working life, with time in New York and Alabama in between.
He married his first wife, Marilyn, in Michigan in 1954. Together they had one daughter, Julie, in 1955. After 23 years of marriage, Tom lost Marilyn to cancer in 1977.
Tom retired from his job at Bendix in 1977 and returned home to Kansas where he spent his days hunting, tinkering, spending time with the people he loved and enjoying nature.
Tom was married a second time to his wife Alice in 2005 in Hawaii.
Tom was a shining example of everything a man can be. He was a hard worker. He was humble. He was kind. He cared deeply for his family, friends and neighbors. He was always eager to help the people in his life in any way he could. He will be fondly remembered by all who were blessed to know him.
In his final days, he shared with his family his key to such a long and happy life. He told us "If there is a trick to long life, l think it might be eat what you like, drink what you like and be stubborn."
He was preceded in death by his parents, Bill and Myrtle; and his wife, Marilyn.
Tom is survived by his wife, Alice; daughter, Julie and her husband James; grandchildren, Brian and his wife Marianne, Megan and her husband Daniel, and Christine and her husband Trevon; and great-grandchildren, Ashton, Camden, Liam, Adeline, Charlie and Trevon.
A visitation will be held at 10:30 a.m. until 11:30 a.m. Saturday, Oct. 30, at Feuerborn Family Funeral Service Chapel, 219 S. Oak, Garnett, Kan. A celebration of life will follow with food and drink at the Town Hall Center, 125 W. Fifth, Garnett.
In lieu of flowers, Tom and his family ask that you please consider donating on his behalf to the American Cancer Society. Donations may be made online, by phone or mailed. https://donate.cancer.org, 1-800-227-2345, American Cancer Society Donations, P.O. Box 22478, Oklahoma City, Okla. 73123.
You may send condolences to the family at www.feuerbornfuneral.com.
OBITUARIES

Linn County News Published November 30, 2022 Mildred Irene Brandt, age 83, of Miami, Okla., formerly of Parker, Kan., passed away Nov. 21, 2022, at Integris Hospital, Miami, Okla. Irene was born Aug. 6, 1939, in Kansas, the daughter of Otis and Josephine (Ingram) Diehm.... [More]

Linn County News Published November 23, 2022 Christina A. Creighton Turner, 84, passed away Nov. 19, 2022. She was born Dec. 8, 1937 in Centerville, Kan., to Eva Shafer and Roy Bowman. On Dec. 18, 1955, she married John Creighton; they had four children together before his... [More]

Linn County News Published November 16, 2022 Edgar Wayne Moon, age 82 of La Cygne, Kan., passed away at his home on Saturday, Nov. 12, 2022. He was born the son of Chester and Evelyn (Van Liew) Moon on Aug. 14, 1940, in Lawrence, Kan. Edgar married Betty Talley on... [More]
More Obituaries
View All Obituaries
NEWS

Request options be brought to next meeting During the meeting on Monday, Nov. 28, Linn County Commissioners heard from Landfill Manager Al Doan regarding multiple issues with the Solid Waste Department ranging from the current contract with Arcadia for hauling from... [More]

The Pleasanton City Council reviewed and approved a new trespass policy as provided by City Attorney Burton Harding during the Nov. 28 meeting. The policy sets out parameters for what is considered to be trespassing, as well as appropriate reactions. It notes specifically... [More]

Market Street is a proposed path between La Cygne coal, Wolf Creek nuclear plants Representatives from a Kansas City engineering firm last week presented plans for an Evergy underground conduit-cased fiber optics cable preliminarily proposed to run through La Cygne.... [More]
More News
SPORTS

The 2022 high school football season concluded and it is time for the annual All Linn County football team. The team is decided by stats and watching the boys play. I also try to make the number of boys between schools as even as I can. This season was tough in deciding as... [More]

Ten days prior to their Linn County state border counterparts (including Valentine's Day opponent Pleasanton), Hume began another promising basketball season Nov. 22 with a split decision at Appleton City. The Lady Hornets outscored their hosts in the first three quarters,... [More]
More Sports

OBITUARIES POLICY
• May be mailed, e-mailed, faxed or hand delivered.
• Must be received by 9 a.m. on Tuesday morning in order to appear in that week's edition.
• Full obituaries submitted by individuals are required to be paid in advance.
• Obituaries submitted by funeral homes will be billed to the funeral home.
• Cost: $30 for 300 words or less. Each additional word over 300, 10¢. Photograph $5.
Call Barbara at 913-352-6235 or e-mail linncountynewsreporter@gmail.com