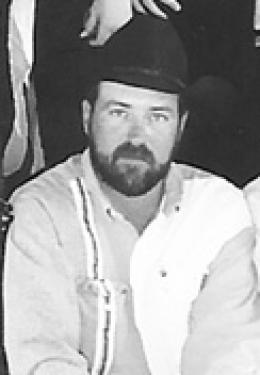 Tony Lee Fenster, 47, formerly of Holdrege, Neb., passed away Tuesday, Jan. 13, 2015, at Louisburg Healthcare and Rehabilitation in Louisburg, Kan. His passing was an indirect result of injuries sustained from a severe auto accident in August 2003.
Tony was born Aug. 17, 1967, in Holdrege, the oldest of five children from Dallas and Carol Fenster. He graduated from Holdrege High School with the class of 1985, and immediately after high school joined and proudly served in the Army National Guard. Tony studied agriculture at McCook Community College, where he received an Associate of Applied Science Degree in May 1987. Following his education, Tony embarked on a career in livestock production. He was employed by several cattle feedlots in south-central Nebraska, most recently as an assistant manager at the West Lot for Phelps County Feeders in Bertrand.
In 1991, Tony married Melissa Japp of Guernsey, Wyo. To this union two sons were born, TeJay Lee Fenster and Ty Lee Fenster. Tony's boys always came first to him, and he took great pride in raising his sons to be dependable and knowledgeable cattle hands like their father.
A true cowboy his entire life, Tony was particularly fond of horses. He broke and trained colts in his spare time, and also bred, raised and showed quarter horses. Competing in local rodeos and roping with friends were two of Tony's favorite pastimes. He also enjoyed hunting and fishing, being outdoors and treasured any time spent with his family. Tony was hard working, an excellent teacher and a genuine role model. He regularly went above and beyond to ensure a job was done right or to help out a friend. A loving father, brother and son, he will be greatly missed by all those fortunate enough to have known him.
Tony was preceded in death by both his maternal and paternal grandparents. He leaves to mourn his passing two sons: TeJay Fenster of Ainsworth and Ty Fenster of Thedford; parents, Dallas and Carol Fenster of Linn Valley, Kan.; four siblings, Brenda Ries of Mount Tabor, N.J., Angela Moore of Olathe, Kan., Randy Fenster of Gillette, Wyo., and James Fenster of Rolla, Mo.; as well as a host of nieces, nephews, aunts, uncles, cousins, other relatives and friends.
Visitation was held Sunday, Jan. 18, 2015, at the Nelson-Bauer Funeral Home in Holdrege, with funeral services at the same location Monday, Jan. 19, 2015. Following the traditional funeral, cremation took place and a private family inurnment will occur in the Oxford Cemetery at a later date.
In lieu of flowers, the family asks that you consider making a donation in Tony's honor to pediatric cancer research at the Weill Cornell Children's Brain Tumor Project. Donations can be made payable to Weill Cornell Medical College and sent to:
Weill Cornell Brain and Spine Center
Attn: Ana Ignat, Department Administrator
525 East 68th Street, Box 99
New York, NY 10065
Donations can also be made online directly at www.childrensbraintumorproject.org <http://www.childrensbraintumorproject.org. Please be sure to include "Tony Fenster" in the memo of your check, or in the tribute area of the online form.
The family also wishes to thank the many skilled medical staff and caregivers who have assisted Tony and supported their family since the 2003 auto accident. Their unwavering devotion to providing Tony with the highest quality of care possible has been sincerely appreciated.
OBITUARIES

Linn County News Published Aug. 10, 2022 Merle A. Beckman, age 86, Mound City, Kan., passed away Wednesday, Aug. 3, 2022. He was born in rural La Cygne, Kan., on Oct. 5, 1935, the son of Charles and Neeva (Neal) Beckman. He graduated from La Cygne Rural High School... [More]

Linn County News Published Aug. 10, 2022 Mary Jo Spencer, age 83, of Mound City, Kan., passed away on Aug. 6, 2022, at Louisburg Healthcare, Louisburg, Kan. She was born Nov. 13, 1938, in Terrell, Texas, to James Downing and Claudie Flower. Mary Jo moved to Lubbock, Texas,... [More]

Linn County News Published Aug. 10, 2022 Larry Sumners, age 68, of Centerville, Kan., passed away on Monday, Aug. 1, 2022, at the Overland Park Regional Medical Center in Overland Park, Kan. Laurence A. Sumners was born on Aug. 16, 1953, at McPherson,... [More]
More Obituaries
View All Obituaries
NEWS

What was a dream a year ago has come to fruition with a ribbon cutting and open house scheduled for Friday, Aug. 12 at 10 a.m. The Southeastern Technical Academy for Rural Students (STARS) is now a reality located in the former Cox Motor Company building at Laurel and 17th Streets... [More]

With the ribbon cutting and open house of the new STARS Technical Academy in Pleasanton slated for Friday, Aug. 12, the staff and instructors at the school opened up recently about their roles and what the program means to them. Phil Mitchell, who will be teaching Construction... [More]

After sending the Linn County Commissioners an email explaining county real estate compliance with state values, the commissioners visited with Linn County Appraiser Kathy Bridges Monday. After initial conversation on the 2021 final ratio study concerning commercial and residential... [More]
More News
SPORTS

The Linn County Fair and Rodeo started this past week with the traditional demolition derby. There were two nights of demo derby action as team derby, modified and figure eight races took place on Aug. 5 while the compact, semi-modified and bone stock took place on the evening... [More]

Linn County has a new competitive softball team, Total Effect Softball, which will be based out of Mound City. Jayhawk-Linn head softball coach Kris Holt started the team and will be the head coach of Total Effect. Holt had multiple reasons on why he wanted to start a competitive... [More]
More Sports

OBITUARIES POLICY
• May be mailed, e-mailed, faxed or hand delivered.
• Must be received by 9 a.m. on Tuesday morning in order to appear in that week's edition.
• Full obituaries submitted by individuals are required to be paid in advance.
• Obituaries submitted by funeral homes will be billed to the funeral home.
• Cost: $30 for 300 words or less. Each additional word over 300, 10¢. Photograph $5.
Call Barbara at 913-352-6235 or e-mail linncountynewsreporter@gmail.com