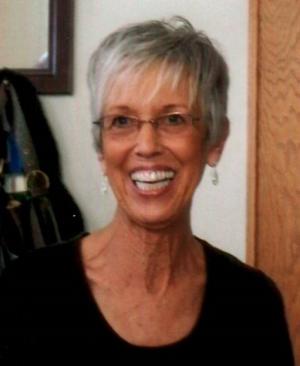 Trudy E. Proffitt
08-19-1943 to 01-27-2020
Linn County News
Published Jan. 29, 2020
Trudy Eilene Proffitt died peacefully at home in Pleasanton, Kan., surrounded by her loving family on Monday, Jan. 27, 2020. Trudy was born on Aug. 19, 1943, in Olathe, Kan., the youngest of three children to Florence E. and William Eldon Forrest Endecott. A lifelong resident of Kansas, Trudy was raised in a loving and Godly family.
She graduated from Columbus High School in May 1961 and married her high school sweetheart, Donald Proffitt, on June 4, 1961. Together they shared more than 58 years of marriage and raised four children.
Trudy and Don started their married life in West Mineral, Kan., close to their families. After living in Olathe and West Mineral for a number of years, they moved to the Pleasanton area in 1972 and found their forever home. Trudy was very active in the community and school. She was a homemaker as well as an excellent typist. For a short time, she and her sister-in-law Sue owned the Flower Boutique. Having gone back to work in the 1980s, after the family had grown, she cherished memories of her time working for Fundcraft Publishing with David and Charlene Bradley. Later, she worked alongside Don at Proffitt's Tire and Lube Center in Pleasanton. In the 1990s, Trudy also worked for the city of Pleasanton as both deputy city clerk and city clerk. She then worked for SEK Mental Health until her retirement.
From a young age, Trudy loved music and picked up her father's knack for learning and playing music by ear. Not only did she sing for many church services, but over the years she taught herself to play piano, guitar and even the accordion. Her love of music stretched to dancing. For years, she and Don danced nearly every weekend and met many close friends at country western and polka dances around Southeast Kansas. Trudy was an avid fan of the Lonesome Cowboys, the band her son Mark helped form. Trudy and Don followed them everywhere for the 12 years they played. Fitting for Trudy, she made friends with everyone she met along the way. And, of course, she became like a second mom to the other members of the band.
Trudy was a constant caregiver, whether it was making sure her kids were well and had everything they needed to be happy or spoiling her grandkids and great grandkids whenever she possibly could. She was also a wonderful friend and daughter to her mother when she most needed it. She took care of friends too – Becky Patience and Dawn Helmert – whom she loved so much. Trudy was also a great baker. There was rarely a time when she wasn't baking a cherry pie, her delicious homemade "light rolls" or cookies for someone. She also loved to read novels and seemingly always had a book she was about to finish, ready to be shared with a friend or to be donated to the library.
Trudy and Don made many trips to visit friends and family across many states. She loved her trips to see her youngest son Corey, wherever he was living, often taking the grandkids along as they grew up. Her and Don's last vacation was an Alaskan cruise to celebrate her 75th birthday.
Survivors include husband Don of the home; daughters Tuesdee Stark (Duane) of Pleasanton and Tracee Otterstein (Mark) of Kansas City, Mo.; sons Mark Proffitt of Linn Valley and Corey Proffitt (Rod Sisson) of New York, N.Y.; and a "special son," Mike Kendrick of Marshall, Ark. She is also survived by her nine grandchildren, Destinee, Arielle, Taylor, Alexis, Ethan, Bailey, Austin, Jadon and Brennan; eight great grandchildren; brothers Larry Endecott (Kathy) and Stanley Endecott (Margaret), all of Olathe; and numerous extended relatives whom she loved dearly.
For the past 11 years, Trudy and Don attended the First Baptist Church of Mound City. She loved and was loved by so many. She left us too soon, and her beautiful smile and spirit will be missed.
OBITUARIES

Linn County News Published September 20, 2023 Daniel Glen Needham took the long way home on Sept. 6, 2023, after fighting a long battle against cancer. We are sure he had to stop along the way and check out all the new fishing holes and visit with everyone he met... [More]

Linn County News Published September 20, 2023 Phyllis Irene Best, age 75, Grain Valley, Mo., passed away Thursday, Sept. 14, 2023. A graveside funeral service will be held 11 a.m. Wednesday, Sept. 20, 2023, at the Curry Cemetery. Visitation will be... [More]

Linn County News Published September 20, 2023 Jean Frances Patterson (nee Ward) 86, of St. Louis, Mo., passed away Monday Sept. 11, 2023 in Mercy Hospital. She was a resident of St. Louis for 60 years but remained loyal to her native Kansas where she was born... [More]
More Obituaries
View All Obituaries
NEWS

A full room greeted seven of nine members of the Linn County Planning and Zoning Commission last Tuesday at their normally scheduled meeting. The crowd attended in response to apparent contracts being circulated through locations in the county asking landowners to lease property... [More]

Field questions from local residents on regulations Following an executive session for legal matters, County Counselor Gary Thompson explained to the commissioners and those attending the meeting that he had reached out to three different attorneys who have extensive... [More]

Parker city leaders have given its police force the go-ahead to purchase two body camera/taser systems. The 3-0 vote, with Kandice Higgins and Jerry Summers not present, came during last Thursday's monthly council meeting but only after city leaders agreed that this year's... [More]
More News
SPORTS

The Jayhawk Linn football team is now 3-0 after a 56-0 thrashing of Uniontown on the evening of Sept. 15. It was all Jayhawk in their home opener as the Hawks dominated in all three phases of the game. The first offensive play from scrimmage resulted in points as Jayhawk quarterback... [More]

The Pleasanton volleyball team was certainly busy this past week as the team hosted Rich Hill on Sept. 11, hosted a Three Rivers League quad on Sept. 12, and traveled to Humboldt for a tournament on Sept. 16. The Lady Jays played a best out of five matchup against Rich Hill... [More]
More Sports
OBITUARIES POLICY
• May be mailed, e-mailed, faxed or hand delivered.
• Must be received by 9 a.m. on Tuesday morning in order to appear in that week's edition.
• Obituaries submitted by funeral homes will be billed to the funeral home.
• Full obituaries submitted by individuals are required to be paid in advance.
• Cost: $40 for 300 words or less. Each additional word over 300, 10¢. Photograph $5.
Call Barbara at 913-352-6235 or e-mail linncountynewsreporter@gmail.com