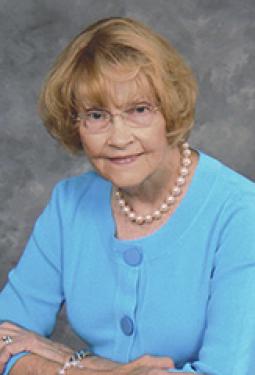 Linn County News
Published July 1, 2020
Velma Eileen Crisler, 84, of Edgerton, Kan., passed away on June 24, 2020. She was born on June 21, 1936, to Wayne and Violet (Hoover) Hardisty at Osawatomie, Kan. On June 19, 1955, she married Wayne S. Crisler, and they made their home in Spring Hill, Kan.
Eileen was a 50-year member of the First Christian Church of Olathe; she was active in the Church Food Bank, took trips to Costa Rica to help build a sister church, and was a church deacon emeritus. Eileen enjoyed bowling, sewing and knitting and was active in EHU.
She is survived by her loving son, Curtis L. Crisler, and daughter Angela S. Crisler; and her sister, Rosetta Ewald.
She was preceded in death by her husband and her parents.
Private services were held with burial in the Elm Grove Cemetery.
Memorials are suggested to the First Christian Church in her memory. To leave a message for the family, visit www.Penwellgabelkc.com
OBITUARIES

Linn County News Published April , 2020 Howard "Carl" Francis, age 87, Blue Mound, Kan. passed away on Thursday, March 26, 2020. He was born on May 7, 1932 in Blue Mound, Kan. the son of Lonnie and Vesta Hopewell Francis. He graduated from... [More]

Published in the Linn County News Wednesday, Mar. 4, 2020 Margaret Alice Wilson, age 87, Paola, Kan. passed away on Sunday, Feb. 23, 2020. She was born on February 15, 1933 in Cass County, Mo. the daughter of Henry Earl(Ramey) Russell and Olive Darlene... [More]

Linn County News Published Feb. 26, 2020 Marion Earl Farley, age 86, Grandview, Mo., passed away Tuesday, Feb. 18, 2020, at Research Medical Center in Kansas City, Mo. He was born on Aug. 25, 1933, in Ottawa, Kan., the son of Homer and Cleo... [More]
More Obituaries
NEWS

Let's continue our series on this week in baseball history. We will look at one historic event per day for the upcoming week in baseball. A full list for historic events in baseball for each day can be found at Nationalpastime.com. First African American MLB players... [More]

Following a presentation earlier in the year by Joey McLiney of McLiney and Co. concerning an attempt to lower the city's interest rate on their bond debt, Kip Hart, representing the company, told the City Council of Mound City Monday night they'd have to raise sewer... [More]

Drought conditions across the state of Kansas prompted the governor to declare drought emergencies, and in preparation for lack of rain, Public Wholesale Water Supply District No. 13 (PWWSD No. 13) representative Kevin Hancock met with the Mound City Council Monday night and... [More]
More News
SPORTS

The Miami Express 16A softball team, which comprises multiple girls from Linn County and the surrounding areas, traveled to the Field of Dreams Complex in Basehor Linwood to compete in the MO/KAN USSSA Mega State Championship softball tournament. There were a total of 28 teams... [More]

The Miami Express softball teams took part in the Kansas USSSA State Softball Tournament this past weekend. Both the 14U B-team and the 16U team feature girls from Prairie View and Jayhawk-Linn, and both teams did exceptional at the tournament. The 14U team went 5-2 and placed... [More]
More Sports