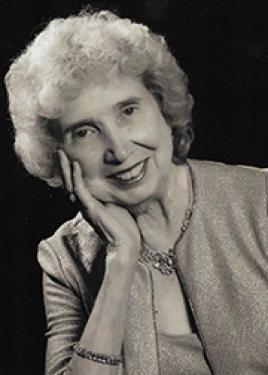 Linn County News
Published Nov. 11, 2020
Vera F. (Irwin) Williamson, age 94 (when we were kids she always said she was 29,) passed away peacefully on Wednesday, Nov. 4, 2020, reunited in heaven with A.K. "Kay", her beloved husband of 62 years. Mom saved and cherished the love letters dad sent while serving in the Marines during WWII. Mom loved coffee! She would drink a pot of coffee a day. One time when we were living in what we called The Big House, I found her stockpile of Folger's coffee in the old cupboard on the back porch. She said, 'I don't want to run out!'
She also loved popcorn, and an occasional snickers bar. As kids growing up, every Sunday night, popcorn was what we had for dinner. Big bowls of hot buttery popcorn, popped on top of the stove; that comforting aroma filled the house.
Mom and dad were wonderful parents, creating the childhood of dreams for us kids. We went fishing and camping every weekend. Mom would fry up the tiniest fish we caught (with fried potatoes and onions). We were leading the life of kings!
Music and church were an important part of her life. She played piano and organ at church for 50 years and was also the Choir Director. When we were young, she sat with her back to the congregation at the piano. She had a mirror on the side where she could see if we were behaving. If not, she would make us go sit beside her on the piano bench; you never wanted that to happen.
Mom began working outside of the home long before most women. Her career spanned 30 years for the Kansas State Dept. of Social and Rehabilitation Services; working as Tri-County Supervisor with the focus on child and adult protection, foster care and nursing home licensing. She was a founding board member of the Southeast Kansas Tri-County Mental Health Dept. and Chairman of the Tri-County Community Corrections Advisory Board; serving on both for over 30 years. She rarely spoke about what she did, but we always knew she dedicated her life to helping others.
Described as a community leader and path finder, she was also actively involved with the Methodist Church and the American Legion Auxiliary, serving every position from President on down over the years. Mom created an extensive genealogy collection and when asked why, she laughed and said she was looking for the horse thief! She traced our ancestry and became a member of DAR.
Becoming snow birds, mom and dad lived in South Texas every winter for over 25 years. There you could find her leading the Kitchen Band, Computer Club, Dances, Quilting and Red Hats. You knew never to call her at 4 p.m. because she would be at a Patio Party; she loved having fun! If you ever had the pleasure of being in her home you know how beautifully she displayed her collections. She loved antiques, collectables, crocks, milk bottles and Santa Claus (she loved Christmas!) etc. She enjoyed her extensive stamp and coin collections and in her free time, she hand-quilted over 17 full sized quilts. Mom was a speed reader and could read a book in a day. She enjoyed mystery books and called them Whodunnit's. As a small-town gal, mom loved the excitement of traveling and cruising. For her 90th birthday celebration our family went on a cruise. The word around Mound City was 'Did you go on the Cruise?' as it seemed the whole town knew! A cherished memory. We celebrate the wonderful life of our beautiful, sweet mother. Looking forward to our next Five Star Day! (what we call a perfect day) when we will see her smile again, in Heaven.
Funeral service will be 11 a.m. Saturday, Nov. 7, 2020, at the Mound City United Methodist Church with burial in the Woodland Cemetery. Visitation will be held from 10 a.m. to service time at the Church. Contributions are suggested to the Methodist Church, c/o Schneider Funeral Home, P.O. Box J, Mound City, KS 66056. Online condolences can be left at www.schneiderfunerals.com.

OBITUARIES

Linn County News Published Oct. 11, 2023 Our dear father, Victor Gene Clark, passed away at his home in Mound City, Kan., on Monday, Oct. 2, 2023. Vic was 85 years old. Vic was born in Medicine Lodge, Kan., on Aug. 23, 1938, to parents Mary Jane (Sharp)... [More]

Linn County News Published Oct. 11, 2023 On the afternoon of May 28, 2023, LaVerne C. Nelson (nee Smith), with her steadfast daughter Renee' by her side, succumbed to the ravages of dementia just a few weeks shy of her 88th birthday. This determined woman... [More]

Linn County News Published Oct. 4, 2023 Vanetta Carol (Hardy) Sabine passed away peacefully at Freeman Hospital in Joplin, Mo., at 5:42 a.m. on Friday, Sept. 29, 2023. She was born June 27, 1944, in Garnett, Kan., to William Orland and Ella Bernice "Margaret"... [More]
More Obituaries
View All Obituaries
NEWS

2-0 vote occurs after Commission chairman departs Linn County commissioners have agreed to return comprehensive-plan solar farm regulations to its Planning and Zoning (P&Z) board for further consideration that will include a yet-to-be-determined open-hearing public... [More]

The Pleasanton Council's normal every-other-week meeting began with a sales tax initiative hearing so patrons could ask questions of the council concerning the one-cent sales tax proposal coming on November's ballot. No questions were asked from the small crowd;... [More]

Celebration theme is "Back to Our Roots" The annual General Pleasonton Days celebration is set for this coming Saturday and Sunday and in many ways is stepping back. The theme for this year's event is "Back to Our Roots" and with that... [More]
More News
SPORTS

Prairie View's Buffalos have put Class 3-A, District 2 football on notice. They are in it to win it. In the shadow of their own goal posts thrice in the first half, the Buff defense each time held Girard from scoring and ignited a 21-0 road win over the district-favorite... [More]

The Pleasanton football team traveled to Cherokee on Sept. 29 to play Three Rivers League foe Southeast Cherokee. Pleasanton had no problems with the Lancers as they won the game 42-6. The Jays scored a total of six touchdowns on Cherokee. The first touchdown was a 27 yard... [More]
More Sports
OBITUARIES POLICY
• May be mailed, e-mailed, faxed or hand delivered.
• Must be received by 9 a.m. on Tuesday morning in order to appear in that week's edition.
• Obituaries submitted by funeral homes will be billed to the funeral home.
• Full obituaries submitted by individuals are required to be paid in advance.
• Cost: $40 for 300 words or less. Each additional word over 300, 10¢. Photograph $5.
Call Barbara at 913-352-6235 or e-mail linncountynewsreporter@gmail.com
View Legals for Free