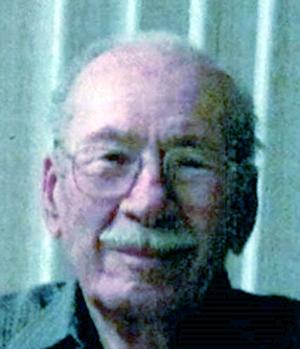 Linn County News
Published March 20, 2019
William (Bill) Monroe Scott, 94, Mound City, Kan., passed away Friday, March 15, 2019, at his home near Mound City. Bill was born Dec. 20, 1924, to Leo Bertner and Elizabeth (Hahn) Scott at his home in rural Mound City.
He attended his eight years of elementary school at rural Kincaid, southwest of Mound City, and graduated from Mound City High School in 1942.
On May 18, 1947, he married the love of his life, Rubie Mae Blackman, in Pleasanton, Kan.
Following high school, he drove for Vess Cola, Pleasanton, owned and operated his own truck line, worked on the assembly line at the B O Plant in Kansas City, and had a Kansas City Star route. For many years he worked at the Sunflower ammunition plant, then Gracy Electric Co. of Olathe. For 19 years he was the head electrician for the Olathe School District, retiring in 1988 and returning to Mound City to help build a new home on the 20 acres that he and his wife Rubie had cleared.
Community was important to Bill. He was a member of the Olathe United Methodist Church and the Mound City United Methodist Church, an active member of the Republican Party serving as a precinct person for many years, and he and Rubie were instrumental in organizing the Mound City Medical Foundation. Ever the outdoorsman, Bill enjoyed camping, fishing, gardening and mowing the lawn. Always a people person, Bill enjoyed spending time with family and friends whether sharing his garden produce, playing a game of cards or cribbage, or just visiting. Bill was also an avid bird and deer watcher. After retirement, Bill and Rubie traveled on bus tours to all 50 states, all provinces of Canada, the Islands, Mexico and many other countries.
Bill was preceded in death by four brothers, Waldo, Charles, Calvin, and L.D.; and five sisters, Leah Ellis, Gladys Ward, Theresa Noggle, Ellen Stutsman and Ester Teeter.
Survivors include his loving wife, Rubie, of the home; and many nieces, nephews and friends.
The funeral service was held Tuesday, March 19, at Mound City United Methodist Church with nephew Jeff Blackman officiating. Burial followed in Curry Cemetery.
Contributions in memory of Bill may be made to any of the following: Care to Share, Mound City Medical Foundation or the Mound City United Methodist Church Funeral Dinner Fund. Donations may be mailed to the funeral home, P.O. Box J, Mound City, KS 66056. Friends and family may leave online condolences at www.schneiderfunerals.com.
OBITUARIES

Linn County News Published December 7, 2022 Anna Mae Carrel, 98, Nevada, Mo., passed away on Sunday, Dec. 4, 2022, at Menorah Medical Center in Overland Park, Kan. Anna was born Nov. 4, 1924, in Mound City, Kan., to Fred M. and Mary C. (Hollister) Smith. She was united in... [More]

Linn County News Published December 7, 2022 Kathryn Elaine "Kathy" Newcome passed away Thursday Dec. 1, 2022. Funeral service will be 2 p.m. Monday, Dec. 5, 2022, at the Schneider Funeral Home and Crematory, Pleasanton Chapel. Burial in the Richland Cemetery. Visitation will... [More]

Linn County News Published December 7, 2022 Linda S. Rios, age 63, of Mound City, Kan., passed away in Olathe, Kan., on Nov. 14, 2022. There are no services scheduled. Online condolences may be left at www.schneiderfuneral.com.
More Obituaries
View All Obituaries
NEWS

In a sentencing hearing set for Friday, Dec. 2, Robert Woody III appeared in Linn County District Court in front of Judge Andrea Purvis, but instead of sentencing being handed down, the defense requested a continuance. Defense counsel Craig Cole noted his client had just brought... [More]

Discussions at Monday's Linn County Commissioner's meeting turned to the landfill issue and the fact that, as it currently sits, the landfill is only a year and half out from closing. During Monday's discussions, Linn County Public Works Administrator Shaun... [More]

Charges amended to one count of leaving the scene of an accident James Rocky Allen appeared in Linn County District Court on Tuesday, Nov. 29 for what was slated to be a preliminary hearing in case LN-2020-CR-000240 in which he was charged with second degree murder;... [More]
More News
SPORTS

The Prairie View wrestling team traveled to Pleasant Hill on Dec. 2 and 3 to compete in the Steve Leslie Invitational. The boys' team had three wrestlers place in the top four while the girls' team had two wrestlers place in the top four. Kimmy Eastwood wrestled... [More]

Pleasanton basketball teams began their season Friday with a split varsity decision at Prairie Village-Kansas City Christian (KCC), the girls winning 39-19 while the boys took a 60-31 loss. Both teams now have two games upcoming at this week's early-season round-robin... [More]
More Sports

OBITUARIES POLICY
• May be mailed, e-mailed, faxed or hand delivered.
• Must be received by 9 a.m. on Tuesday morning in order to appear in that week's edition.
• Full obituaries submitted by individuals are required to be paid in advance.
• Obituaries submitted by funeral homes will be billed to the funeral home.
• Cost: $30 for 300 words or less. Each additional word over 300, 10¢. Photograph $5.
Call Barbara at 913-352-6235 or e-mail linncountynewsreporter@gmail.com