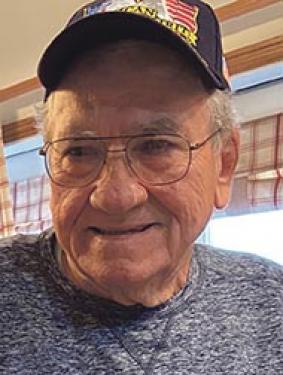 Linn County News
Published Oct. 13, 2021
On Oct. 6, 2021, William Dean "Bill" Potter, Pittsburg, Kan., moved to eternal rest from the family home where he was lovingly cared for by his daughter and wife. Bill was born on Nov. 30, 1946, to Orville and Virginia Potter in Columbus, Kan. He grew up on the family farm where he learned the value of hard work and sacrifice from his mother and stepfather, Raymond Simpson.
Bill graduated from Columbus High School in 1964 and went on to complete electrical trade school at Kansas State College of Pittsburg. He completed additional college instruction at Pittsburg and Washburn University in Topeka. He was a master electrician and learned all things related to construction through his job experiences. He worked for Masonite for 18 years, retiring in 2006. His daughter was known to say "my dad can build anything." He was both creative and talented, taking pride in building things that were unique and would last.
Bill joined the army in 1968, and served two tours of duty in Vietnam as a Staff Sergeant Special Forces Pathfinder where he was awarded a purple heart, two silver stars and four bronze stars among other citations. He was a paratrooper, sharpshooter and served as a jump instructor at the U.S. Army Airborne School at Fort Benning, Ga. On March 12, 1976, he was united in marriage to Deborah Post. She survives of the home.
Bill loved all things in nature especially his birds, dogs and faithful cats. He built structures for their comfort and protection and often tried to convince his wife to let them move into the home.
Bill was a private man who didn't like personal attention but was very public in his confession to Christ. He was baptized into the Christian faith on Dec. 8, 2019.
Bill is survived by his wife, Debbie; daughter, Alicia Burk (Bob) of Pittsburg, Kan.; brothers, Bob Potter (Kathy) of Kansas City, and Derris Simpson (Cheryl) of Weir, Kan.; nephews, Darreld (Laura) Simpson of Weir, Kan., Matt Simpson (Spring), Richard Potter (Holly), and Mike Potter (Holly); special in-laws, Greg and Sandy Post of Mapleton; and friends who he regarded as family, Phil and Diana Carter, Phil and Sherry Jagels, Judy and Dale Dufrene, Anna Kinghorne, Connie Stewart and many others.
A memorial service was held on Monday, Oct. 11, 2021, at the Countryside Christian Church with Pastor Jim Frech officiating. Private family burial will take place at a later date at Mapleton Cemetery.
Memorial donations can be made to Countryside Christian Church or the SEK Interlocal Foundation. In consideration for others, the family asks that friends and family adhere to the covid-19 safety protocols while participating in the services. The service will be live streamed on the following website, brennermortuary.com, through William's obituary page. Arrangements are under the direction of the Brenner Mortuary, 114 E. 4th St., Pittsburg.
OBITUARIES

Linn County News Published Oct. 27, 2021 Sammy Lee Meyer, affectionately known as "Snuffy", age 67, Mound City, Kan., passed away Tuesday, Oct. 19, 2021. He was born on April 9, 1954, in Paola, Kan., the son of Richard Arnold and Marie June Lockhart... [More]

Linn County News Published Oct. 27, 2021 William Clark "Gable" McKay of Harrisonville Mo., formerly of Plattsburg, Mo., passed away Tuesday Oct. 19, 2021. He was born on July 26, 1939, and was raised by John and Nola Williams at Mound City,... [More]

Linn County News Published Oct. 20, 2021 Michael Allen Bishop, age 74 of Grove, Okla., formerly of Blue Mound, Kan., passed away Saturday, Oct. 9, 2021. He was born the son of Jacob T. and Erma O. Giffin Bishop on Jan. 29, 1947, at Blue Mound, Kan. Mike... [More]
More Obituaries
View All Obituaries
NEWS

Bond revoked, remanded to custody Daniel Brenneman appeared in Linn County District Court in front of Senior Judge Gunnar Sundby on Monday, Oct. 18, to contest the results of a competency evaluation for Case LN-2020-CR-218, and for a hearing on the revocation of his bond due... [More]

Following news that the former Cox Motor Co. building was going to become the home of the new trade school, the Pleasanton City Council signed an agreement to sell real estate Monday evening at their regular meeting. City Attorney Burton Harding told the council that the city... [More]

City share of federal ARPA funds could help with fiber optics Parker leaders discussed a proposal by Peoples Telecommunications LLC, La Cygne, to bring broadband internet to the city. At the monthly council meeting last Thursday, Cherry Buckley, city clerk, informed... [More]
More News
SPORTS

The Pleasanton volleyball team finished their regular season this past week with games on Oct. 12, Oct. 14 and Oct. 16. On Oct. 12 the Lady Jays faced league foes Chetopa and Marmaton Valley at Chetopa. Pleasanton defeated Chetopa in two sets, 25-22 and 25-22, but lost to Marmaton... [More]

This Prairie View football season has been marked by injury attrition to projected starters among its 19 rostered seniors. Kyle Waterman has missed the entire season with a summer-scrimmage leg injury, and Micah Eastwood's campaign is now finished because of a collarbone.... [More]
More Sports

OBITUARIES POLICY
• May be mailed, e-mailed, faxed or hand delivered.
• Must be received by 9 a.m. on Tuesday morning in order to appear in that week's edition.
• Full obituaries submitted by individuals are required to be paid in advance.
• Obituaries submitted by funeral homes will be billed to the funeral home.
• Cost: $30 for 300 words or less. Each additional word over 300, 10¢. Photograph $5.
Call Barbara at 913-352-6235 or e-mail reporter@linncountynews.net