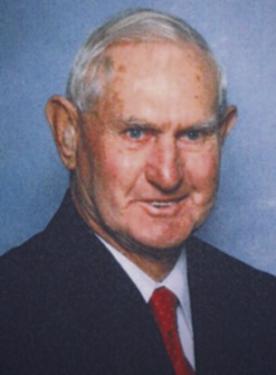 William Wesley "Bill" Ross Jr. known to many as "Jim," age 94, died Thursday, Oct. 27, 2016, at the Life Care Center of Osawatomie.
Bill was born May 6, 1922, in Centerville, Kan., the seventh of eight children born to William Wesley and Effie May (Jinks) Ross. He grew up on a farm in Centerville, and attended grade school in Blue Mound schools, graduating from Blue Mound High School with the class of 1940.
On July 3, 1943, he married Dorothy Jean Pruitt in Fort Scott, Kan.; the couple made their home on a farm southwest of Blue Mound. To this union they were blessed with three children: Pauletta, Doyle and Ronnie.
Bill farmed for more than 30 years then he and Jean sold their farm and moved to Moran, Kan., and he worked at the ammunition plant in Parsons; then later moving to Parsons where Bill worked at the Parsons State Training Center. He continued to work for the Parsons State Training Center after moving to Altamont, Kan. After 15 years he retired in 1987.
He and Jean sold their home in Altamont and began a life of travel in their new fifth wheel they called home. Wintering in the Brownsville, Texas, area they traveled across the states for almost ten years. Bill and Jean loved to travel, camp and fish, and they loved their choice of retirement.
In 1997 Bill and Jean settled in Osawatomie. They enjoyed being in Osawatomie and being close to their daughter Pauletta and her family. Jean later became ill and the couple moved from their home to Carr Apartments. Jean died on Oct. 4, 2005. Bill and Jean were married for 62 years.
Bill remained living at the apartment they had shared. With failing eyesight, television was a struggle to watch, but he enjoyed talking to people and loved to take walks and of course spend time with his family. In 2011 Bill moved to Vintage Park Assisted Living in Osawatomie where he remained until he became ill and spent a week in the hospital. On Oct. 26 he was moved to the Life Care Center of Osawatomie where he passed the following day.
He was a member of the First Baptist Church of Osawatomie for many years.
Bill was preceded in death by his parents; his wife, Jean; six brothers and one sister.
Survivors include his children: Pauletta (Clayton) Stites of Osawatomie, Doyle (Nola) Ross of Amarillo, Texas, and Ronnie (Betty) Ross of Corpus Christi, Texas. Grandchildren: Tammy, Trent, Troy, Tanya, Jennifer, Kendall and Kiley and 16 great-grandchildren along with many other family and friends.
Services were Saturday, Oct. 29, 2016, at the Eddy-Birchard Funeral Home. Burial at Sunny Slope Cemetery in Blue Mound, Kan. Memorials are to First Baptist Church of Osawatomie and may be sent c/o Eddy-Birchard Funeral Home, PO Box 430, Osawatomie, KS 66064.
OBITUARIES

Linn County News Published May 24, 2023 Gene Raymond Mitchell, 84 years, passed away on November 24, 2022 in his home Grand Rapids, Mich. He was born in Kansas City, Kan., the third child of Otto and Ruby Mitchell. Preceded in death by his parents and brother,... [More]

Linn County News Published May 17, 2023 Richard Scott Secrest, age 93 of Nevada, Mo., formerly of Pleasanton, Kan., passed away on Tuesday, May 16, 2023. He was born the son of Ancil and Beulah (Jackson) Secrest on May 29, 1929, at Edgerton, Kan. Richard married... [More]

Linn County News Published May 17, 2023 Donald Raymond Wier, age 82, of Denton, Texas, passed away on May 11, 2023. The second child of Lloyd Elmer and Thelma Olan (Meek) Wier, Don was born on July 9, 1940, in Fort Scott, Kan., a farm kid who excelled in... [More]
More Obituaries
View All Obituaries
NEWS

Saturday, May 27 Linn Valley Memorial Day ceremony at the memorial at 10 a.m. Prescott Cemetery Memorial Day ceremony at 10:30 a.m.; a potluck lunch will follow at the Community Building in Prescott with the city providing the meat, drinks and table service.... [More]

Frustration has reached a boiling point; frustration from property owners who have had their gate entry cards cut off and frustration from Tanglewood Lakes board members at continued damage they are seeing to lake property. Events reached a heightened state after Kansas State... [More]

Amid a packed house, Linn County Attorney Burton Harding provided an update for commissioners and the public on an incident that took place at Tanglewood Lakes on Thursday, May 18. Harding stated that on Friday afternoon his office received videos and reports from the Sheriff's... [More]
More News
SPORTS

The Jayhawk-Linn softball team competed in the 2-1A Regional tournament hosted by Uniontown on May 15-16. The Hawks won the tournament and earned a sport in the 2A State tournament in Pratt on May 25-26. Jayhawk was the two seed with a 13-3 record and first played the seven... [More]

The Prairie View track team traveled to compete in their 3A Regional meet in Fredonia on May 18. The Regional meets determine who will participate in the State track meet as the top four placers in each event goes to State. The Buffalos sent a total of eight athletes to State,... [More]
More Sports

OBITUARIES POLICY
• May be mailed, e-mailed, faxed or hand delivered.
• Must be received by 9 a.m. on Tuesday morning in order to appear in that week's edition.
• Full obituaries submitted by individuals are required to be paid in advance.
• Obituaries submitted by funeral homes will be billed to the funeral home.
• Cost: $30 for 300 words or less. Each additional word over 300, 10¢. Photograph $5.
Call Barbara at 913-352-6235 or e-mail linncountynewsreporter@gmail.com